Lexa Doig Biography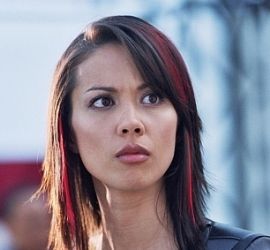 Lexa Doig (Alexandra Lecciones Doig) was born on June 8, 1973.  She is a Canadian actress, from Toronto, Canada. She played the title role in the science fiction television series Andromeda (2000–2005). Lexa also played the lead female role of Rowan in the science fiction action horror film Jason X (2001).
Education
Lexa studied rhythmic gymnastics as a child and American sign language as a teenager.  She attended the Don Mills Collegiate Institute for her compulsory secondary education.  While still in school, she enrolled in a vocational modeling program. Almost immediately, at age 16, she was offered representation and booked in various modeling projects. She chose to drop out from her final year in high school to pursue modeling and acting. The media exposure led to her co-hosting the Canadian game show Video & Arcade Top 10 (1991–2006). While auditioning for television and film roles, she worked on stage productions.  Her theatre credits include Romeo and Juliet and Arsenic and Old Lace.
Early Career  
Lexa Doig's first television acting role was Second Girl on The Hidden Room (1993). Her first recurring role was in a TV series TekWar (1994-96) as the character Cowgirl. Lexa's first movie role was in Jungleground (1995).
Her first acting career break came at the age of 19.  She was cast opposite William Shatner and Greg Evigan in TekWar (1994-96) as a recurring character. She went on to appear in several projects for both the big and small screens.  These include CI5: The New Professionals (1998), Jungleground (1995), and No Alibi (2000).  Her next big break came capturing a lead role in Jason X (2001), the 10th installment in the Friday the 13th series.
Next, she landed the title role in Gene Roddenberry's TV series Andromeda (2000-05).  Lexa portrayed the Andromeda Ascendant ship's sophisticated artificial intelligence system in three personas — as the ship's powerful AI (artificial intelligence) on the ship's screen, as the AI's hologram, and as Rommie, the android avatar of the AI. During this time, she regularly made guest appearances on several popular television shows, including Traders (1996), Earth: Final Conflict (1997), The Chris Isaak Show (2001).
She played a recurring role as Dr. Carolyn Lam in 11 episodes of Stargate SG-1 (2005–2007). Doig appeared in six episodes in the remake of V (2010) as the alien physician Dr. Leah Pearlman. She also played the recurring role of Liber8 terrorist Sonya Valentine in the Canadian science-fiction TV series Continuum (2012-15).  Doig began playing the recurring role of Talia al Ghul in the fifth season of Arrow (2017). She began portraying DeAnn Anderson the same year, one of the main roles in the E! television series The Arrangement (2017-18). In 2019, Doig joined the Netflix television series Virgin River (2019-20) cast as the character Paige Lassiter.
Lexa Doig – Career Highlights
Jason X (2001)  Lexa Doig plays Rowan LaFontaine
Jason X is very different from others in the Friday the 13th Franchise.  This is Jason put in a deep freeze and then thawed out some 500 years in the future.  Whether you like it or hate it, it is a definite departure from the usual slasher formula.  Still, you are going to get all the murder, menace, and mayhem you bargained for – and a little claustrophobia is thrown in for good measure.  The cyborg Jason is formidable, slashing and chopping in the confines of a spaceship, no less.  From horror to humor to science fiction, this film delivers.  Maybe Jason XI will feature Jason slashing, singing, and dancing in a horror musical.
Andromeda (2000-2005)  Lexa Doig plays Ascendant Rommie
Critics and fans alike tend to agree that the first and second seasons were the best.  An idealistic captain from a fallen civilization tries to restore order across the remnants of three galaxies.  A premise that broad leaves a lot to work with.  The cast as a whole is quite good.  The central and supporting characters are well-acted, fresh, and compelling. The arts direction and special effects are modern and top-notch.  However, mid-way through season 2, the head writer was dismissed and things quickly changed – not for the better.  From that point on, the biggest criticism tends to be that the episodes are hit-and-miss.  As a result, the series as a whole lost its focus and the main plot lacks direction.
Tactical Force (2011)  Lexa Doig plays Jannard
Four Los Angeles S.W.A.T. team members are must deal with two competing gang/mob factions while training at a remote facility.  The bad guys are trying to locate a mysterious briefcase, apparently hidden in the remote warehouse training facility.  While not particularly plausible, it is a workable premise.  And, the script had its moments.  For example, the humor was great with more than a few laugh-out-loud deliveries.  Of course, it could have been better.  But, it could have easily been much worse.  It is not meant to be a comedy, nor a first-rate police thriller.  It is intended as a police-themed action flick – and that's exactly what it delivers.
Arctic Air (2011)  Lexa Doig plays Petra Hossa
It's hard not to like this show.  The premise is a lot like Ice Pilots, but with its own unique identity.  Also, the characters are fresh and believable and the scenery is outstanding.  It's refreshing to see regular folks going about their daily lives without pretense.  Surprisingly, funny, happy,  and sad – all at the same time.  This is not a reality show.  It's a good old-fashioned drama – pure and simple.  The plot revolves around well-established characters that developed empathy with the audience.  What a combination – Canada, the Northwest Territories, Indigenous peoples, and vintage DC-3 prop-planes.
Lexa Doig – Memorable Quotes
Modeling
When I was 16, my aunt and uncle bought me a modeling course.  The course turned out to be kind of useless, but the instructor pulled me aside after class one day and gave the name of a reputable agency and told me to go there instead.  After filming a few commercials where I met other actors (which is what I really wanted to do), an actor friend of mine sent me to his talent agent and the rest is history. – Lexa Doig
Acting in Canada
It would be nice to see the right person to get the job, the best person, regardless of their nationality. However that can sometimes be taken too far, in that I know, living and working in Canada, there are often where they bring the Americans in for roles that Canadians could very easily play just because there's a mentality that Canadians are "not as good as" when the producers are American. So, it would be nice to see that evening out but a lot of that too is financially where it's all based because wherever you are filming tends to offer tax breaks when you hire locally. – Lexa Doig
Fund-raising for Multiple Sclerosis
My father and my first cousin have Multiple Sclerosis so it's obviously a cause that's very near and dear to me. Michael's cousin also has Multiple Sclerosis, so it's something that's very near and dear to both our hearts. It's a difficult disease, there's a lot of research being done, there are massive strides being made in terms of treating the symptoms, they're very close to finding out what the causes are, but I don't think there is any one cause. It's a multiple confluence of different and unfortunate genetic circumstances, so the more fundraising the better as far as I'm concerned. – Lexa Doig
Lexa Doig Personal: Net Worth and Zodiac
Lexa Doig has an estimated net worth of approximately $500 thousand – $1 million as of 2021. (Source: celebritynetworth.com)
Lexa was born on June 8th.  That puts her under the zodiac sign Gemini – the twins.
The June 8 birthday horoscope predicts that Gemini born on this date are soldiers when handling life's twists and turns. As a result, you have tremendous self-reliance than most others born under the same zodiac sign. You will bend, but not break, and when knocked down, but you dust yourself off and always manage to get up again. Better still, you are enterprising and remain laser-focused, generally finishing whatever you start.
Gemini born on this day are gifted recruiters. Followers are drawn to your dramatic persuasion. You are entertaining with a good sense of humor and the gift of gab. As a result, people open up and trust you because you are not judgmental.  Instead, you are reliable, helpful, and resourceful often offering excellent advice.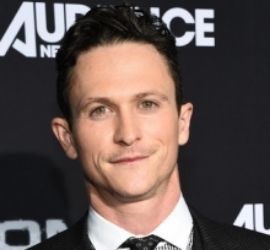 Jonathan Tucker was born on May 31st, 1982 in Boston, Massachusetts.  His mother is Maggie Moss, a public relations and marketing analyst executive.  His father is Paul Hayes Tucker, a professor of art at the University of Massachusetts and a leading expert on the artist, Claude Monet. Historian and ambassador, Carlton J. H. Hayes is Jonathan's paternal great-grandfather.
Jonathan tops the list as the highest-paid actor in 2021 earning a cool $58 million dollars from July 2020 to July 2021.
Tucker is married to Tara Tucker, daughter of author Liaquat Ahamed. They were married on June 16, 2012.
Tucker is the founder of the Pegasus Fund.  It is a not-for-profit charity camp for disadvantaged students in the Los Angeles, California area. Pegasus' mission statement: "The Pegasus Fund supplements the academic journey of top-performing students in underserved communities by sending them to summer camp as a means to help prepare them for the new geographic and social environments of the private secondary schools they plan to attend".