Who is Liam O'Brien?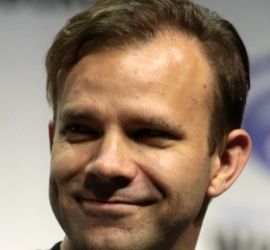 Liam O'Brien (Liam Christopher O'Brien) was born on May 28, 1976.  He is an American voice actor, writer, and director.  Liam was raised in Weehawken, New Jersey, USA.
He worked in the theater during his early career, before branching out into work in animation, video games, and film. He has been married to Amy Kincaid since July 6, 2002. They have two children.
Liam is a regular cast member of the Dungeons & Dragons actual play series Critical Role, playing Vax'ildan ("Vax") and Caleb Widogast. Also, he has been involved in many video games, cartoons, and English-language adaptations of Japanese anime.
His major anime roles include Gaara in Naruto, Vincent Law in Ergo Proxy, Captain Jushiro Ukitake in Bleach, Lloyd in Code Geass, Kenzo Tenma in Monster, Akihiko in Persona 3, and Nephrite in the Viz Media dub of Sailor Moon. (Source: wikipedia.com)
Liam O'Brien – Career Highlights
Avengers Assemble (2013-17)  Liam O'Brien voices: Red Skull / Iron Skull, Steven Strange / Doctor Strange, Blood Brother #2, Skully, Skull-Net, others
Most initial user reviews tended to be very negative.  Many were angry that Earth's Mightiest Heroes was taken off the air and replaced with the "new-and-improved- Avengers Assemble version.  However, if you enjoy the Marvel TV and Cinematic Universe you may still enjoy this show. It does not take itself too seriously and that's always a plus. Avengers Assemble takes place sometime in the future of Earth's Mightiest Heroes.  You can tell because flashbacks in the show use stock footage of the former episodes.  There are also references to the past episodes, so there is continuity.
Hulk and the Agents of S.M.A.S.H. (2014-15)  Liam O'Brien voices: Arkon, Red Skull, others
If you like Ultimate Spider-man, there is no reason not to enjoy this title as well. It is playful and fun with offbeat humor taking place in the same universe.  There are elements of an older, 70s kind of comic cartoon.  But, the characters develop quickly and allow for more personal interaction.  If you are looking for a plot or central storyline, it's not there.  It's a kid's cartoon, not a sequential story that builds upon an intricate plot. It's a humorous satire about superheroes who have been left out from the Marvel franchise.  These semi-outcasts live together as roommates and try to save the world in their own way.  Good for them!
Star Wars Rebels (2014-17)  Liam O'Brien voices: Supply Master Yogar Lyste, Morad Sumar, others
There were many critical reviews early into the series. However, as the characters developed, a solid fan base emerged.  The voice work is excellent and the rebel characters are likable.  Still, in spite of the dark setting and completely new characters, there is a lot of nostalgia that loyal followers can lock into.  In fact, it's actually refreshing that this departure from the original is not afraid to push boundaries and embrace the Darker Side of Star Wars.  The episodes are good, and sometimes even great.
Liam O'Brien – Memorable Quotes
Childhood, Theater, and Acting
I wasn't a child actor. I went to an all-boys Jesuit school in New Jersey – a skinny little doofus. I've never been good at sports and didn't know what the hell to do with myself. Until a friend from my homeroom said "Hey you wanna go try out for a play?" I didn't know what that meant, but I went. I played Sir Edward Ramsay in The King And I. The second-year we did Hamlet. Uncut. It wasn't the best high school version.  My sister still gives me sh@#. But it was Shakespeare that really sunk its teeth into me. I realized that I really enjoyed acting, and then terrified my parents by telling them I wanted to go to acting school. But my parents were very supportive, and I went to NYU. I was going to be a very serious theatre actor. – Liam O'Brien
Dubbing and Voice-over
A lot of actors shy away from it.  And, if they don't, their agents do. You're just not going to pull in the big fat sacks with dollar signs like you can with say, a national commercial campaign. Really though, I wouldn't say I am more attracted to dubbing than other forms of VO. I love working on anime, but I also love the games and original animation projects I'm a part of. But dubbing is where I broke into the business. For a long time, it was the only kind of recording work I had access to. No other doors were opening yet. I will say that I respect it a lot more than some. Dubbing anime has always been like going to the gym for me. It's difficult to create a spontaneous feeling performance that also plays nice with the constrictions of the preexisting picture. – Liam O'Brien
Dungeons & Dragons
Never in a million years did I guess that so many people would connect with the stories we tell. Back in the day, we definitely found each other entertaining as hell, but for all I knew, we were a niche audience of eight. As far as the influence of the audience while we play, it's maybe less than you'd expect. I think we were all having some stomach butterflies our very first game of the new campaign, but only because we were trying on a new skin for the first time. Normally though, it's pretty easy to just look across the table and riff with my closest friends. It still feels very intimate, and the live audience gives us just a dash of that edge-of-your-seat feeling. – Liam O'Brien
Liam O'Brien Personal: Net Worth and Zodiac
Liam O'Brien has an estimated net worth of approximately $1 million – $5 million as of 2021. (Source: famousfacewiki.com)
Liam was born on May 28th.  That puts him under the zodiac sign Gemini – the twins.
A May 28 birthday predicts that you are fearless. Almost to a fault, you may actually have no clue as to what danger lurks. However, this is a great trait to have for a real go-getter. You do not sit by and take what life gives you.  Instead, you take what you want from life, and you do not look back.  Typically, those born this day constantly seek adventure and are rarely bored or disinterested.
The May 28 birthday personality is independent and straightforward.  You are characteristically funny, practical, yet intuitive. Also, your ambition and desire for beautiful surroundings suit you well for success. It never hurts that you are willing to work to achieve this status.  This Gemini birthday person is usually enthusiastic, joyful, and full of laughter. You are quick to joke, horse around, and play practical pranks on your close friends and family. A word of caution in the romance department – don't be too idealistic expecting more than your partner can deliver.
Up Next: Lexa Doig Biography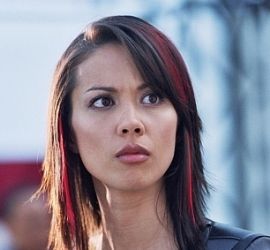 Lexa Doig (Alexandra Lecciones Doig) was born on June 8, 1973.  She is a Canadian actress, from Toronto, Canada. She played the title role in the science fiction television series Andromeda (2000–2005). Lexa also played the lead female role of Rowan in the science fiction action horror film Jason X (2001).
Education
Lexa studied rhythmic gymnastics as a child and American sign language as a teenager.  She attended the Don Mills Collegiate Institute for her compulsory secondary education.  While still in school, she enrolled in a vocational modeling program. Almost immediately, at age 16, she was offered representation and booked in various modeling projects. She chose to drop out from her final year in high school to pursue modeling and acting. The media exposure led to her co-hosting the Canadian game show Video & Arcade Top 10 (1991–2006). While auditioning for television and film roles, she worked on stage productions.  Her theatre credits include Romeo and Juliet and Arsenic and Old Lace.