Who is Sendhil Ramamurthy?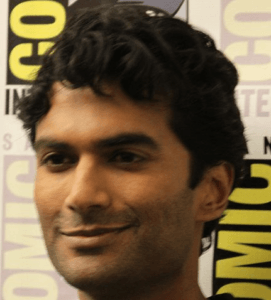 Sendhil Ramamurthy is an American actor and producer of Indian descent.  He rose to fame playing USA television roles.  Ramamurthy was born in Chicago to a Hindu family who had emigrated from India.  His father was a Kannadiga and his mother a Tamil. He grew up speaking English with a little Kannada thrown in for good measure.  His parents are physicians, and he has one sister who is also a physician. He and his sister were raised in San Antonio, Texas. There, he went to Keystone School and graduated in 1991.
Education
Ramamurthy attended Tufts University.  Initially, he was pre-med planning to follow in his parents' footsteps and become a doctor. He was also a member of the Kappa Charge of Theta Delta Chi Fraternity. He became interested in acting when he took an Introductory Acting class during his junior year.  The general education units were part of his graduation requirement. However, he decided to change his major course of studies after participating in several plays—including Our Country's Good. He graduated with a bachelor's degree in history and then attended the Webber Douglas Academy of Dramatic Art in London in 1996.  He graduated in 1998 and traveled as a member of the Royal Shakespeare Company.
Film Career Highlights
In the Beginning (2000), Blind Dating (2006), The Slammin' Salmon (2009), It's a Wonderful Afterlife (2010), Shor in the City (2011), The Lifeguard (2013), Lego Jurassic World: The Indominus Escape (2016)
Television Career Highlights
Grey's Anatomy (2003), Heroes U.S. TV series (2006-2010), Psych (2010), Covert Affairs (2010-2012), CSI: Miami (2012-2013), The Office (2012-2013), Beauty and the Beast (2013-2014), MacGyver (2018), New Amsterdam (2018), The Flash (2019-2020), Cleopatra in Space (2020-Present)
Sendhil Ramamurthy Fun Facts
Graduated from Tufts University in 1996 and is a brother of the Theta Delta Chi fraternity.

Nominated for a Screen Award for Best Male Debut.

Studied drama in England and was a member of the Royal Shakespeare Company.
Born and raised American, but his on-screen characters often speak with a flawless, posh British accent.  This uncanny linguistic ability gets him typecast as a doctor, scientist, or cunning villain.
Sendhil Ramamurthy Defining Roles
It's a Wonderful Afterlife (2010)  Sendhil Ramamurthy plays D S Raj Murthy
The setting is an Indian community in Britain trying to maintain the system of arranged marriages.  Mrs. Sethi (Shabana Azmi) has failed at arranging a suitable husband of Indian descent for her daughter Roopi (Goldy Notay).  She is turned down for being too fat, not pretty enough, and for having a female mustache. At the end of her patience, Mrs. Sethi starts to kill those who reject her or speak badly of her daughter.  Mrs. Sethi uses a specially prepared, spicy curry to dispatch her victims. But, their spirits come back as ghosts to haunt her. The ghosts eventually realize they can only move on and reincarnate if Mrs. Sethi herself dies.  So, the ghosts demand that she kill herself.  This turns out to be something she is willing to do to set the spirits free.  But, only after she has found a suitable Indian husband for her daughter.
Shor In The City (2011) Sendhil Ramamurthy plays Abhay
Three happy-go-lucky street urchins prowl the streets of Mumbai in search of their next adrenaline rush. They steal an untended bag from a local train.  To their surprise and delight, they find the bag is full of guns. Now, they only need to find buyers for all the different types that are in their possession. The trio is joined by a would-be cricketer who needs to find a lot of money fast to bribe his way into the Indian National Team.   And then there is a returning non-resident businessman played by Senthil Ramamurthy.  He wants to build his business in India without having to pay the local mafia the customary security fees for protection.
Covert Affairs (2010-2012)  Sendhil Ramamurthy plays Jai Wilcox
Annie Walker is a young CIA intern.  However, she is unexpectedly sent to the Domestic Protection Department (DPD) to work in the field. Annie is promoted prematurely into a dangerous assignment when the agency needs a Russian speaker to debrief a Russian defector.  He indicates he is ready to sell secrets or is he?  August "Auggie" Anderson, is a blind technician and is Annie's guide in her new life.  The series traces Annie's development from a young employee who fetches coffee to a die-hard spy who does not flinch under increasing pressure. Annie has to juggle office politics with the real-life dangers of cloak-and-dagger work.  all the while, she must maintain her civilian cover that she works in Acquisitions at the Smithsonian Museum.
Sendhil Ramamurthy Memorable Quotes
My parents are from Bangalore. They are both doctors. My sister is a psychiatrist. So when I started school at Tufts University I was initially doing a pre-med major. I came to acting fairly late in the game.  I signed up for an acting class called "Intro to Acting" in my graduation year because I needed an arts credit.  Also, I thought it would be easy and there were lots of women in the class!  Then I landed the lead in a college production of Timberlake Wertenbaker's "Our Country's Good," and discovered I loved acting. After two more plays at Tufts, I was hooked and decided I needed to change my career goals. – Sendhil Ramamurthy
I've made a very conscious decision that I'm not going to go in on stereotypical stuff — I'm just not into it. I've turned down auditions for lots of roles like that. I won't do it, and my agents won't ask me to do it. I don't fault other actors for doing that. Sometimes you just need to work. But for me personally, I would rather just go and do something else. – Sendhil Ramamurthy
I don't think a lot of people watch a show like Never Have I Ever have watched some of the genres that I've done. Even doing New Amsterdam has opened me up to a different audience than what I was normally used to. And that's one of the really cool things about this show is the number of people who have messaged me, and been like, "Where have you been?"  This is my kind of show now. I feel lucky that I've been opened up to a new audience that maybe didn't really watch the kind of stuff that I did before.  – Sendhil Ramamurthy
Net Worth and Zodiac Sign
Sendhil Ramamurthy Net Worth: As of 2021, the actor's net worth is estimated at $1-5 million.
The actor was born on May 17th.  That puts him under the zodiac sign of Taurus the bull.
May 17 birthday horoscope says that a Taurus born on this day loves the chase. The journey is more fun to this Bull than arriving at the destination. The bad news is you are a perfectionist and you take on new challenges all the time.  You are smart but reserved and others do not realize just how smart you are.  This is because you tend to hide it. So what?  You do not seem to care what others say about you. Also, the May 17 birthday personality predicts that you are adoring, considerate, and captivating.  You have more grit and integrity than bulls born on other days. Typically, you are a talented organizer with attention to detail and discipline to pull off a successful event. You have the talents to make things happen in a good way.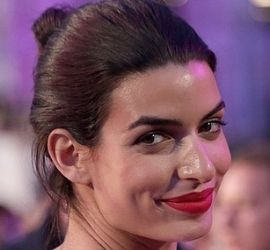 Tonia Sotiropoulou is a Greek actress and model.  She was born on April 28, 1987, in Athens, Greece.  She is best known for her role as James Bond's love interest in the film Skyfall (2012).  Tonia also played a vixen in Hercules (2014) and featured in the British horror film Berberian Sound Studio (2012).
Tonia was originally born and raised in Athens, Greece.  She attended the Giorgos Kimoulis Modern Theatre of Athens Drama School in 2007, but she never graduated.  She moved to London at the age of 20 to pursue her acting career.  Since appearing opposite Daniel Craig, she has attended red carpet events around the world.  Also, Tonia now graces numerous covers of fashion magazines and is dressed by top fashion designers from around the world.