Who is Sam Riegel?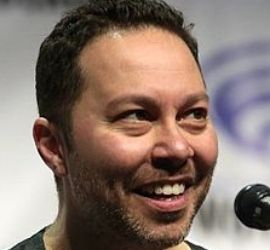 Sam Riegel is an American voice actor, director, and writer. He is a regular cast member of the web series Critical Role.  It is a screen share where he and other fellow voice actors play Dungeons & Dragons.
Samuel Brent Oscar Riegel was born on October 9, 1976, in Washington, DC. Sam grew up in Washington, D.C., and Northern Virginia.  He attended college at the University of Virginia. Riegel has two younger siblings.  His sister is the actress Eden Riegel.  She plays live roles but has entered the world of voice acting as well. His half-sister is the filmmaker Tatiana S. Riegel.
Sam's father is Kurt Riegel.  Kurt is a radio astronomer, environmental executive, and sailor. His mother, Lenore, is married to author Jerome Charyn. Riegel lives in Los Angeles.  He is married to Vietnamese-American cinematographer Quyen Tran. Together, they have a daughter and son.
In addition to his prolific list of voice credits, Sam also serves as voice director for Disney's DuckTales, Sofia The First, Pickle & Peanut, Elena of Avalor, and Fancy Nancy, as well as Danger & Eggs for Amazon and Unikitty! for Cartoon Network.
Career
Riegel is known for performing kooky characters in outlandish video games, cartoons, and other entertainment platforms.  Perhaps he is best known for voicing Donatello in the 2003 Teenage Mutant Ninja Turtles series and Phoenix Wright in the Ace Attorney games. He is a recurring cast member of the web series Critical Role, in which he and other voice actors improvise Dungeons & Dragons campaigns. In 2018, he received the Daytime Emmy Award for Outstanding Directing in an Animated Program for his work on Danger & Eggs.  He hosts the All Work No Play podcast with his Critical Role co-star Liam O'Brien.
Video game characters include Peter Parker in The Amazing Spiderman games, Starscream in Transformers War for Cybertron & Fall of Cybertron, Teddie in the Persona series, Chris Haversam in Fallout New Vegas, Zed in Ratchet & Clank, as well as voice roles in Last of Us, World of Final Fantasy, Uncharted 4, Shadow of Mordor.
Sam also serves as voice director for Disney's DuckTales, Sofia The First, Pickle & Peanut, Elena of Avalor, and Fancy Nancy, as well as Danger & Eggs for Amazon and Unikitty! for Cartoon Network.
Sam Riegel Fun Facts
Received the Daytime Emmy Award for Outstanding Directing in an Animated Program for his work on Danger & Eggs (2018).
Older brother of Eden Riegel, a live-action actress who in recent years also entered the voice acting business.
Riegel and his wife, Tran witnessed the 9/11 attacks in New York. Riegel recorded video footage of the North Tower Collapse that has since been featured in several documentaries.
While in college, Sam performed for a vocal group known as The Academical Village People.
Sam Riegel Defining Roles
Critical Role (2015 – present)   Sam Riegel voices Scanlan Shorthalt
Dungeons and Dragons is now a spectator sport.  For the uninitiated, D&D is a role-playing game.  The players create characters and participate in a story narrated by a Master of Ceremonies named the Dungeon Master. Also, the Dungeon Master also serves as a sort of referee.  For example, he (or she) interprets the rules to determine whether or not a player is successful in whatever he or she is trying to accomplish.  The task can be anything from firing a crossbow to singing a song. The effect is a combination of improv theater, storytelling, and a strategy board game.  Critical Role is a live weekly show.  Professional voice actors improvise and role-play their way through an epic Dungeons & Dragons campaign.  Generally, the weekly broadcast is basically just a live-streamed game of D&D.  However, the players are all accomplished voice actors and offer very entertaining improvisation.
Teenage Mutant Ninja Turtles (2003-2009) Sam Riegel voices Donatello
The series stays true to the original comic version of the Ninja Turtles.  However, the animated series is not just a re-hash of the old comic episodes.
The 1990 live-action film came close to adapting perfectly to the original comics.  However, the 1987 cartoon took numerous liberties. The animated series is the most faithful adaptation of the Turtles' origin yet.  Generally, the series has created a genuine tribute to its roots. This flashback even has all four Turtles wearing red masks, just as they did in the Mirage comics. There's also a nod towards the 1980s cartoon, as the baby Turtles grow strong by eating pizza and toss around surfer slang like "Dude" and "Cowabunga!"  (Source: cbr.com)
Sam Riegel Memorable Quotes
I've been an actor my whole life — my first show was playing an Oompa Loompa in "Charlie and the Chocolate Factory" when I was six years old. Voice Acting came in adulthood when I realized that rather than auditioning for the same "young nerd" parts over and over, voice acting allowed me to play a variety of roles. Heroes, villains, robots, animals, Teenage Mutant Ninja Turtles. The voice acting world is an open playground for an actor and gave me a chance to be silly and funny a lot more often than in plays and television. I've been voice acting for a few decades now, performing in animation, video games, commercials, etc. It's still a thrill to inhabit a new character. – Sam Riegel
Voice directing for television animation is tricky work. We move fast, often recording an entire episode in under three hours. So the voice director needs to be able to guide the actor to the performance you want very quickly.  At the same time allowing them the freedom and comfortability to create wacky, comedic voices and line deliveries. When it works best, I liken the job to that of a horse jockey. In this case, the thoroughbred is the voice actor – they're doing 99% of the work. All I'm there to do is guide them around the cartoon track as quickly and effectively as possible. A great voice actor understands how to control their voice, as well as joke structure, writing, and storytelling. It's not just making silly voices — it's making emotional content with your imagination. – Sam Riegel
I played Starscream in several Transformers video games. And as the name of the character indicates, it is a very vocally taxing role. You just scream, top of your lungs, for hours. Doing that role probably left me voiceless for days, but it was worth it! – Sam Riegel
Sam Riegel Net Worth and Zodiac Sign
Riegel has a net worth of $2 million (Source: whatstheirnetworth.com)
Sam Riegel was born on October 9th.  That puts him under the zodiac sign of Libra.
OCTOBER 9 birthday horoscope says that you are known as the peacemaker. Getting down to the truth of matters is a gift you were born with as a Libra. Generally, you are a good person with very likable qualities. To this end, you hate arguments and fights of any sort.  You are compassionate but can be aggressive when need be. Usually, you are a creative person who is open-minded. As a negative, you can be a moody individual who is overbearing and forceful. You like controversial topics as you are smart and can hold a conversation with almost anyone. But, you have a way with people, and you know how to articulate your thoughts and feelings. (Source: sunsigns.org)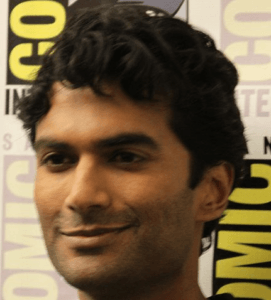 Sendhil Ramamurthy is an American actor and producer of Indian descent.  He rose to fame playing USA television roles.  Ramamurthy was born in Chicago to a Hindu family who had emigrated from India.  His father was a Kannadiga and his mother a Tamil. He grew up speaking English with a little Kannada thrown in for good measure.  His parents are physicians, and he has one sister who is also a physician. He and his sister were raised in San Antonio, Texas. There, he went to Keystone School and graduated in 1991.
Education
Ramamurthy attended Tufts University.  Initially, he was pre-med planning to follow in his parents' footsteps and become a doctor. He was also a member of the Kappa Charge of Theta Delta Chi Fraternity. He became interested in acting when he took an Introductory Acting class during his junior year.  The general education units were part of his graduation requirement. However, he decided to change his major course of studies after participating in several plays—including Our Country's Good. He graduated with a bachelor's degree in history and then attended the Webber Douglas Academy of Dramatic Art in London in 1996.  He graduated in 1998 and traveled as a member of the Royal Shakespeare Company.