Who is Tonia Sotiropoulou?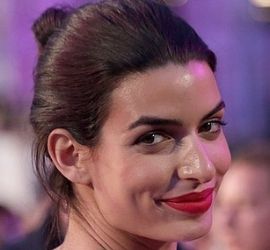 Tonia Sotiropoulou is a Greek actress and model.  She was born on April 28, 1987, in Athens, Greece.  She is best known for her role as James Bond's love interest in the film Skyfall (2012).  Tonia also played a vixen in Hercules (2014) and featured in the British horror film Berberian Sound Studio (2012).
Tonia was originally born and raised in Athens, Greece.  She attended the Giorgos Kimoulis Modern Theatre of Athens Drama School in 2007, but she never graduated.  She moved to London at the age of 20 to pursue her acting career.  Since appearing opposite Daniel Craig, she has attended red carpet events around the world.  Also, Tonia now graces numerous covers of fashion magazines and is dressed by top fashion designers from around the world.
Film Career Highlights
Cool (2007), Normal – Real Stories from the Sex Industry (2012), Berberian Sound Studio (2012), Skyfall (2012), Paolo (short film), Sleeping with Phil Ramrod (short film), Hercules (2014), Brotherhood (2016), Waiting Room (2018)
Tonia Sotiropoulou Fun Facts
Tonia became an instant sensation for her role as James Bond's love interest in the James Bond action film Skyfall (2012). Her selection makes her the first-ever Greek Bond girl to appear in the legendary anthology of films.
Won the LA Film Festival best actress award for her performance in the 2018 film Waiting Room.
Sotiropoulou shared the news on her Facebook page by posting, "Dear friends I officially announce I got a part in J. Bond new film!!!  Turkey here I come! Thank u all for your love and support! This is officially the happiest day of my life…"
Tonia Sotiropoulou Defining Roles
Berberian Sound Studio (2012)  Tonia Sotiropoulou Plays Elena
Berberian Sound Studio is a drama about a British sound engineer (Toby Jones) hired to create the background sounds for a movie about horses.  However, except for the title, the film has nothing to do with horses.    It is a Giallo-inspired horror film, although the director adamantly refuses to admit that fact.  Nevertheless, Gilderoy turns out to be a magician at creating sound effects.  However, that might not turn out to be the only reason he was hired. Slowly, he immerses himself in the pure sensual horror of sound as the film takes a sinister twist. The setting is a post-production studio in Italy, called the Berberian sound studio.  But its old and dank corridors echoing distant and repeated screams gives the feel of a psychiatric ward.
The screams, the scrapes, the clunks and clicks, the sudden electro stabs, the dusty silences that bring out his inner fears. At the mixing desk, he is a part high priest, part human sacrifice in the black mass of cinema production.  Berberian Sound Studio has something of early Lynch and Polanski, and the nasty, secretive studio is a little like the tortured Mark Lewis's screening room in Powell's Peeping Tom, but that gives no real idea of how boldly individual this film is. (Source: theguardian.com)
Skyfall (2012)  Tonia Sotiropoulou Plays Bond's love interest in Istanbul
Skyfall debuts in the 50th year of the James Bond series.  Many claim it could be the best Bond movie ever.  Daniel Craig reprises the role this time with authority and confidence.  Definitely a step up from the previous attempt in Quantum, although that may not have been his fault entirely.  Twenty minutes into the film, an enemy agent subdues Bond and uses him as a human shield.  M gives the command, "Take the shot" and Bond is hit.  Can this be the end of 007?  Nah, not with over two hours of running time left on the film!
This is a brand-new Bond with love and respect for the old Bond. This is dramatized during Bond's visit to the weathered Scottish mansion inhabited by Kincade (Albert Finney), which has secrets to divulge and continues the movie's rewriting of the character's back story.  Just as Christopher Nolan gave rebirth to the Batman movies in The Dark Knight, here is James Bond lifted up, dusted off, set back on his feet, and ready for another 50 years. And am I completely misguided when I expect to see Miss Moneypenny become a Bond girl in the next film? (Source: rogerebert.com)
The Waiting Room (2018)  Tonia Sotiropoulou Plays Katia
Imagine a handful of strangers waking up one by one in an abandoned warehouse.  They all suffer from selective memory loss and none can recall how they got to where they are.  Trying to find their way out, they are attacked by an unknown force.  This is drama, horror, and thriller.  Their survival hinges on being able to recall what happened and how they got there in the first place.
Four total strangers wake up, one after the other, under mysterious circumstances, in what seems to be an abandoned warehouse. When they first meet They don't know each other, and they seem to be completely unrelated. Panos is an executive-looking type in his mid-fifties. Anna, a blonde in her thirties, looks like an artist. Andreas is a handsome, arrogant young man in his twenties, with an obvious drinking problem. Tassos is a small-framed, aggressive, seedy-looking bloke. A first attempt to find a way out of the building leads nowhere. There is no door to the outside world. What's more, they realize that they all suffer a strange form of selective memory loss – they have no recollection of large portions of their past, especially of the events that led them to this place. (Source: filmaffinity.com)
Hercules (2014) Tonia Sotiropoulou Plays Vixen
Remember the 12 labors or Hercules from Greek Mythology?  Well, this film is not about any of that.  The story takes place after those tasks have become a legend.  The Hercules Dwayne Johnson plays is a deeply flawed character.  This version of Hercules is distraught over the murder of his wife and children.  He announces he is a mercenary for hire and surrounds himself with a band of tough guys – and a tough archer gal.
The story has a few twists up its sleeve, as heroes turn out to be treacherous and villains are more complex than first appearances suggest. There's just enough plot to keep the movie lurching forward, and there are plenty of battle scenes to delight connoisseurs of carnage. On the positive side, the sets by production designer Jean-Vincent Puzos, who also designed one of Ratner's favorite movies, Amour are impressive.  And, the crowd scenes enhanced by CGI stir happy memories of films like Spartacus and Ben-Hur. (Source: hollywoodreporter.com)
Tonia Sotiropoulou Memorable Quotes
I did my first movie while I was in drama school with a director called Nikos Perakis who is very well known in Greece. After studying, I started working and doing TV. I've always wanted to do cinema and I've always wanted to move from Greece and go either to America or to England. At some point, I realized it was time for me to go and accomplish what I thought I could accomplish. I decided to move to London because I love the way the industry works here. You have the chance to do American films, European films, and English ones as well. So I moved to London. – Tonia Sotiropoulou
I did seven short films and some web series but the first part I got in a feature film was in Berberian Sound Studio. Statistics say that for a good actor you get one out of thirteen auditions. Berberian Sound Studio happened a year-and-a-half after I moved here. – Tonia Sotiropoulou
I was originally auditioning for another role, one of the main parts. I didn't get that but the casting director told me that there was another part that I would be suitable for. Eight months of my life passed, I did some other projects and then I got invited to audition for the small part I did in Skyfall and I was lucky enough to get it. – Tonia Sotiropoulou
Tonia Sotiropoulou Romance
Tonia Sotiropoulou has been in relationships with Alexis Georgoulis (2013 – 2017), Dimitris Alexandrou (2013), and Alexander Dreymon (2010 – 2012).
According to glamourpath.com, Tonia is married to Maraveyas ilegál whose real name is Kostis Maraveyas.  He is a Greek singer-songwriter and a musician. The two of them got married back in 2017 and are living a happily married life since then.
Net Worth and Zodiac Sign
Tonia Sotiropoulou Net Worth: As of 2021, the actress is estimated at $1-5 million.  Tonia wears branded clothes and carries expensive accessories. Also, she travels around the world with her friends and families for work and leisure.
Tonia Sotiropoulou was born on April 28th.  That puts her under the zodiac sign of Taurus the bull.
IF YOUR BIRTHDAY IS ON APRIL 28, a wealth of stamina has been given to you. You are unlike other individuals born under Taurus the Bull astrology sign. You, my dear, are open-minded and thought to have a temperament of being practical but ambitious.  The 28th April birthday personality traits show you are generally analytical thinkers who thrive on diversity. Being the thinker that you are, you can be opinionated. Contrary, you are seemingly very enduring of life's bruises. The restless spirit of this Taurus birthday person leads to some exciting times. You like exploring but you leave no stone unturned. Those of you born today love living! (Source: sunsigns.org)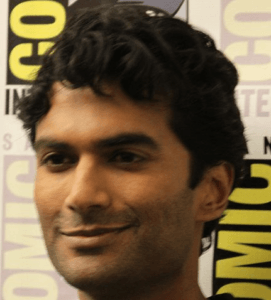 Sendhil Ramamurthy is an American actor and producer of Indian descent.  He rose to fame playing USA television roles.  Ramamurthy was born in Chicago to a Hindu family who had emigrated from India.  His father was a Kannadiga and his mother a Tamil. He grew up speaking English with a little Kannada thrown in for good measure.  His parents are physicians, and he has one sister who is also a physician. He and his sister were raised in San Antonio, Texas. There, he went to Keystone School and graduated in 1991.
Education
Ramamurthy attended Tufts University.  Initially, he was pre-med planning to follow in his parents' footsteps and become a doctor. He was also a member of the Kappa Charge of Theta Delta Chi Fraternity. He became interested in acting when he took an Introductory Acting class during his junior year.  The general education units were part of his graduation requirement. However, he decided to change his major course of studies after participating in several plays—including Our Country's Good. He graduated with a bachelor's degree in history and then attended the Webber Douglas Academy of Dramatic Art in London in 1996.  He graduated in 1998 and traveled as a member of the Royal Shakespeare Company.