Who Is Caren Pistorius?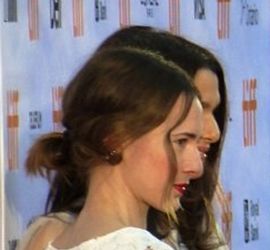 Caren Pistorius is a South African-New Zealand actress who was born in South Africa, in 1990. She has three older brothers and sisters. She is most recognized for her appearance in the 2015 film Slow West, in which she played Rose. Pistorius was born and reared in the South African city of Rustenburg. When she was 12, her family moved to Auckland, New Zealand. She was a theatre student in high school and went on to study at Auckland University of Technology, majoring in animation and illustration.
The actress temporarily returned to theatre after graduation before moving on to television and film. For her work in Australia, Caren was nominated for the Graham Kennedy Award and a Logie Award in 2014. Her worldwide feature film debut came in John Mclean's Slow West (2015), in which she co-stars with Michael Fassbender and Kodi Smith-McPhee. (Source: en.wikipedia.org)
Caren Pistorius – Career Highlights
Slow West (2015), Caren Pistorius plays Rose Ross
In 1870, 16-year-old Jay Cavendish (Kodi Smit-McPhee) leaves Scotland alone to pursue his love Rose Ross (Caren Pistorius) throughout the American West. Jay is a romantically idealistic young man.  He follows Rose to America after she flees Scotland to avoid a crime. Jay meets native Indians in America who are being pursued by Indian fighters.  Silas Selleck (Michael Fassbender) saves Jay and his scalp from the savages. Selleck insists on accompanying the innocent boy and quickly learns that Rose and her father are the targets of a $2000 bounty. The action scenes in this New Zealand-UK western are styled rather than shot with ferocious intensity.
The term slow is in the title for a reason. Expect it to not be all guns blazing the entire time. Anyone expecting a typical western with good heroes and evil villains will be disappointed.  You see, this film does not romanticize the old west.  Instead, it portrays it as a hazardous world where no one is truly good. The film doesn't sugarcoat how desperate life is for many of the people who came to the Old West in search of a better life. Nevertheless, the picture succeeds on multiple levels.  There is romance, male camaraderie, shock, with a few laughs thrown in, and an action ending.
Gloria Bell (2017), Caren Pistorius plays Anne Bell
Gloria Bell (Julianne Moore) is a divorced woman in her forties who lives in Los Angeles. She spends her days at a mundane job, with her friends and family, as well as coping with a hairless cat and an annoying neighbor. Gloria has two grown children.  Daughter Anne (Caren Pistorius) is a sweet yoga instructor, and son Peter (Michael Cera) is an uninspired married guy who looks after his infant boy while his wife is gone. To escape, Gloria spends her nights dancing with other older clubgoers at a nightclub where she meets Arnold one night (John Turturro).
The movie follows this single woman for several weeks as she tries to make a go of it with a stranger, only to learn she is probably better off just the way she is. The issues of loneliness and aging are brought to the forefront. As a beautiful, older single woman, Julianne Moore demonstrates that she can portray this melancholy role convincingly, intensifying the impact of age and loneliness. The video provides insight into the world of older people who are still looking for love.
Mortal Engines (2018), Caren Pistorius plays Pandora Shaw
The film is set one thousand years in the future after the planet has been devastated by war. Hester Shaw (Hera Hilmar) is a determined young woman out for vengeance against Thaddeus Valentine (Hugo Weaving).  The man murdered her mother when she was a youngster. Valentine is now the ruler of London, a vast city-on-wheels that devours lesser communities.  He is one powerful man who wishes to become almighty. To save the world, ordinary folks must intervene. The last third or so of the film is jam-packed with action and as a futuristic action film, it is enjoyable. Cities run on wheels and consume other cities in spectacular fashion.  There is a villain who threatens the entire globe, and two young people fall in love. What's not to appreciate about that? Pandora Shaw, Hester's archeologist mother, is played by Caren Pistorius.
Unhinged (2018), Caren Pistorius plays Rachel Flynn
Tom Cooper (Russell Crowe) is a deranged man who has lost all control. Crowe bludgeons his ex-wife and her new partner with a hammer late at night, then sets fire to the house. The next morning, on their morning school run, Rachel (Caren Pistorious) and her son Kyle (Gabriel Bateman) have an unpleasant experience with him at a set of traffic lights. Rachel is having a horrible day, which is why she honks at the vehicle in front of her at a green light. Unfortunately, the other driver having a VERY, very bad day. As a result, he decides to make Rachel's day even worse. Russell Crowe imbues his role with poisonous effect. He personifies road rage and its consequences to the point where this picture becomes almost difficult to watch. As the frantic, perennially late mother, Caren Pistorius does a believable job and holds her own.
Caren Pistorius – Memorable Quotes
Playing Rose in Slow West…
Yeah, and I really related to that part of her story because I was born in South Africa and moved to New Zealand when I was 12, so could totally relate to the feeling of displacement and having to find your feet in a new country. And I think that move adds a layer to her, and she has become very stoic because she has been through a lot in that time between that we don't see. (Source: themarysue.com) – Caren Pistorius
Her clothing came down to a couple of things. For one, they have a bounty on their head, so there was an element of her being in disguise as a boy. But she also wants to be extremely practical. She has her own horse in America, so it wouldn't be practical for her to ride in a dress. But even in Scotland, even though she wears a frock, it wasn't something dainty. It was a very practical one she could move around in. So the wardrobe was definitely a reflection of how hands-on she likes to be. – (Source: ibid) – Caren Pistorius
Unhinged with Russell Crowe…
…When my driver picked me up at one point I said, "Can you just keep driving, I don't know if I can do this!" He just kept driving until I kind of gathered myself. I knew I could only run so far. So I went up and Derrick and Russell were in the room and it was all very nice. Russell and I chatted about New Zealand and did some scenes. I walked away and thought, "Well, I'm going home tomorrow." – (Source: variety.com) – Caren Pistorius
Personal: Caren Pistorius Net Worth & Zodiac
Caren Pistorius has an estimated net worth of $1-$20 million as of 2022. (Note: multiple sites, including allstarbio lists Caren Pistorius' net worth as $1.0 million or less.  However, Idolnetworth claims Caren Pistorius' net worth to be $20 million.)
Pistorius was born in 1990.  Some sources list the actress' birthday as January 1st.  Others list her birthday as September 30th. That means she is either a, Capricorn – the mythological Sea-Goat, or a Libra – the Scales.
Personal Questions – Bits and Pieces
Are Caren Pistorius and Oscar Pistorius related?
She also happens to bear the same surname as another well-known South African – infamous Paralympic champion and convicted murderer Oscar Pistorius. … "It doesn't annoy me – I think it's understandable that people are curious, but in South Africa, it's a really common name. And no, we're not related!"  (Source: nowtolove.co.nz)
Is Caren Pistorius Greek?
The actress was born in 1990 in Rustenberg, South Africa.  She is reported to be a South African – New Zealand actress.  Her family relocated to Auckland, New Zealand when she was 12. She took drama classes at school. She studied at the Auckland University of Technology. (Source: en.wikipedia.org)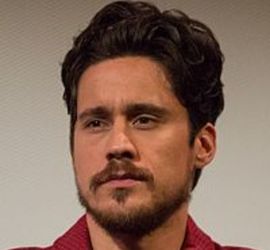 Peter Gadiot is a British actor born on January 2, 1986. In the hit USA Network series Queen of the South, he plays James Valdez. In ABC's Once Upon a Time in Wonderland, he plays Cyrus. Peter currently plays the character, Adam, in Showtime's Yellowjackets. Gadiot studied classical acting at London's Drama Centre and has acted in a number of stage shows. His TV and film credits include MTV's Hot Mess, the British series My Spy Family (2010), and the British horror film 13Hrs (2010), also known as Night Wolf.
Peter comes from a widely diverse background. His father is Dutch and his mother is Mexican, and he was born and reared in London. Peter holds dual citizenship in the United Kingdom and the Netherlands. He is also bilingual, speaking both English and Spanish proficiently. One of two children, he has an older brother.
In 2013, Gadiot made his American network debut in ABC's Once Upon a Time in Wonderland as Cyrus, the handsome and mysterious Genie. In the same year, the actor co-starred with Léa Seydoux in Prada: Candy, a short film directed by Wes Anderson and Roman Coppola. He also starred in the German horror film The Forbidden Girl and participated in three episodes of the British series Fresh Meat (2013), a dramedy with a cult following. (Source: en.wikipedia.org)