Who is Jennifer Robertson?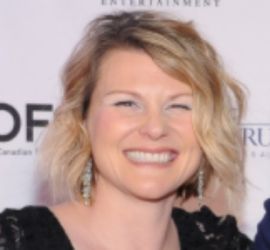 Jennifer Robertson was born on November 24, 1971.  She is a Canadian actress, comedian, and writer. She is most known for her role as Jocelyn Schitt in the CBC Emmy Award-winning sitcom Schitt's Creek (2015–2020).  Robertson was nominated for two Screen Actors Guild Awards (one of which she won) and four Canadian Screen Awards.
Robertson was born in Canada and raised in Vancouver, British Columbia.  She is the daughter of the Double Exposure veteran comedic teammates, Bob Robertson and Linda Cullen. Jennifer has a brother named Patrick.
The actress has also appeared in the CBC comedy series This Hour Has 22 Minutes (2003–2004), the CTV sketch comedy series Comedy Inc. (2003–2010), the Disney Channel fantasy film Twitches (2005), the Family Channel adolescent sitcom Wingin' It (2010–2012), and the Netflix series Ginny & Georgia (2021–present). (Source: en.wikipedia.org)
Jennifer Robertson – Career Highlights
Schitt's Creek (2015-20), Jennifer Robertson plays Jocelyn Schitt
Video shop magnate Johnny Rose and his family become suddenly bankrupt. They are forced to leave their opulent lives behind in order to regroup and rebuild their empire. They must do it from within the rural city borders of Schitt's Creek, their only remaining asset. It's a dump of a town they bought as a joke. Jocelyn Schitt (Jennifer Robertson) is a teacher at Schitt's Creek High School.  She often struggles to gain the respect of her students at times. Jocelyn is conventionally feminine, and a little odd from time to time.  Nevertheless, she is a dependably courteous, kind, and loving teacher, mother, wife, and friend.  You will find the character constantly smiling, even when stressed or anxious. The series is humorous, dry, sardonic, dark, yet has a core of warmth. It's unique and original, and definitely not one to miss. It's great to see two Second City stars reunited.
Wingin' It (2010-12), Jennifer Robertson plays Angela Montclaire
The core plotline isn't particularly original.  Porter Jackson (Demetrius Joyette), is an angel in training.  He is sent to Earth on a training mission to help high schooler Carl (Dylan Everett) become more popular in school.  Also, to teach him some life lessons along the way. The episodes follow conventional Disney sitcom plotlines.  Yet, this show manages to give everything a new spin.  The credit goes to three things – the sets they use, the intelligent storyline, and the outstanding performances. The show is not shot on a sound stage.  Rather, it is shot in real buildings, typically outside. Wingin' It offers a more natural approach to filmmaking, making it more enjoyable to watch. Carl and Becky's 32-year-old single mother is Angela Montclaire (Jennifer Robertson). Angela works hard at her profession while raising two children on her own.
Degrassi: The Next Generation (2010-11), Jennifer Robertson plays Cece Goldsworthy
Degrassi: The Next Generation is a Canadian teen drama and the fourth series in the Degrassi franchise. Several characters from the first two series return as adults in recurrent or guest roles. It was frequently the most-watched domestic drama series in Canada during its early years. It became the highest-rated show on Noggin's teen block, according to The N. By 2004, the series had roughly a million viewers in Canada and 500,000 in the United States. The series received multiple honors, including awards from the Geminis, Writers Guild of Canada, and Directors Guild of Canada. Internationally, it received multiple Teen Choice Awards, Young Artist Awards, and Prix Jeunesse. In 2011, the episode My Body Is a Cage, earned a Peabody Award. (Source: ibid)
Undercover Grandpa (2017), Jennifer Robertson plays Mrs. Bouchard
Jake is a bashful adolescent who finally gets a date.  However, the girl of his dreams abruptly disappears. Jake enlists the assistance of his grandfather and grandfather's former special ops colleagues to help solve the mystery. There's a lot of action, particularly considering the age of the majority of the individuals. Undercover Grandpa was truly enjoyable and decent family entertainment. The tempo was superb, the cast was fantastic, and there were plenty of laughs. If a larger network had picked up this title and given it a larger budget, it could have easily been a runaway cult classic. There were several notable actors and actresses in the cast.  Actors include James Caan, Louis Gossett Jr., Kenneth Welsh, and Jessica Walter. Jennifer Robertson, a veteran Canadian actress, plays Jake's mother, Mrs. Bouchard.
Jennifer Robertson – Memorable Quotes
Her character, Jocelyn Schitt
I was struggling to find work in LA. The week I auditioned for Schitt's Creek I was looking for part-time jobs to help pay the bills. The day I found out I booked the role of Jocelyn was great for so many reasons, primarily because I loved the role. I loved all the feelings bubbling under the surface of Jocelyn's smile. And I loved it when she unraveled in Season 4 after the baby.  I think day-to-day Jocelyn's life would look very similar, teaching, the choir, keeping Rolly in check. But I think she is a much more confident version of herself thanks to Moira. I am full of so much gratitude for the last 6 years. It was a wonderful ride, and I will miss everyone. (Source: cheatsheet.com) – Jennifer Robertson
Learning from other actors
I think that all the characters in this show have affected each other in positive ways. Even though Jocelyn rolls her eyes at Moira, I think she has shown Jocelyn to dream big and be bold!  Being on a show with such accomplished comedic talent has been such a great learning experience. Six seasons with these actors has been a master class in comedy. What I love about the world of Schitt's Creek is that Daniel created a place where everyone is free to be who they truly are without bias. I think the world would be a better place if we could be a little more like that. (Starrymag.com) – Jennifer Robertson
Personal: Net Worth and Zodiac
Jennifer Robertson has an estimated net worth of approximately $8 million as of 2021. (Source: idolnetworth.com)
Robertson was born on November 24th.  That puts her under the zodiac sign, Sagittarius, the Archer.
A Sagittarius born on November 24 appears to do everything through sheer force of personality.  They attract people, project an atmosphere of youth and charm, and even come off as attractive – whether they are or not. They can sometimes be perceived as lightweights.  But, make no mistake, they are emotionally and spiritually robust. Sagittarius individuals are usually clever, but they do not need to be connected with it for ego reasons. These people are not the kind to be alone.  As a result, they require a large number of friends. These astute individuals enjoy trading wits with others just for fun. For them, love is a romantic concept.
Unfortunately, they frequently fall for their polar opposite.  The pairing pushes them to grapple with difficult philosophical dilemmas. Regardless, they do not easily commit to a relationship and have second thoughts when they do. A Sagittarius born on November 24th has a great sense of justice and morality but will also follow their own impulses in matters of the heart. They don't let themselves be influenced easily, but memory may let them down at times.  The fact is they really want to see the best in people.  As a result, it may mean that at times they give too much of themselves to people who don't deserve it.
Jennifer Robertson –

Bits and Pieces
Is Jennifer Robertson engaged or married?
Jennifer's current marital status is married. She was previously married to a businessman named Gerald Cotten, who died in 2018 and has a nine years old beautiful daughter named Lola. She got engaged in 2019 with Andrew Homeyer, who works as a Software Engineer & Intrapreneur. (Source: thewikifeed.com)
Does Jennifer's character, Jocelyn wear a wig in Schitt's Creek? 
In Ginny and Georgia, Jennifer wears a simple pixie cut.  This is a far cry from Jocelyn's flicked-out hairdo in Schitt's Creek – which is actually a wig! Speaking about whether she kept it or not, in an interview with CheatSheet she claims she did not take the wig.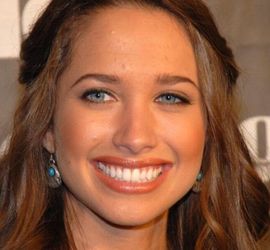 Maiara Walsh was born on February 18, 1988.  She is a singer and actress from the United States. She is well known for her portrayal of Meena Paroom in the Disney Channel sitcom Cory in the House (2007-08), Ana Solis in the sixth season of ABC's Desperate Housewives (2009-10), and Simone Sinclair in the ABC Family series Switched at Birth (20012-17).
Maiara Kylior Walsh was born to a Brazilian mother and an American father in Seattle, Washington. When Walsh was two years old, her family relocated to So Paulo, Brazil.  However, at age 11, she relocated to Simi Valley, California, to pursue her acting career.  She graduated from Royal High School.