Who is Maria Canals Barrera?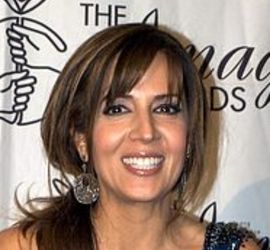 Maria Canals Barrera was born on September 28, 1966.  She is an American actress.
Canals-Barrera has co-starred in a number of sitcoms, has appeared in a number of films, and provided voices over the course of her acting career. Her most well-known role was as Theresa Russo in the Disney Channel family sitcom Wizards of Waverly Place (2007–2013). She also appeared as Connie Torres in Camp Rock (2008) and Camp Rock 2: The Final Jam (2010), and as Lala Pinedo in Larry Crowne (2011). Canals-Barrera featured as Daniela in the ABC comedy series Cristela from 2014 to 2015.
As a voice actor, Maria is best known as the voice of Shayera Hol/Hawkgirl In Justice League and Justice League Unlimited. She also played Sunset Boulevardez in The Proud Family on Disney Channel and Paulina in Danny Phantom on Nickelodeon.
Maria Canals Barrera – Career Highlights
Wizards of Waverly Place (2007-12), Maria Canals Barrera plays Theresa Russo
The plot revolves around a wizarding family. This show isn't quite a rip-off of Harry Potter because the action takes place at their house rather than at a magic school. Furthermore, some of the concepts are really novel. Wizards of Waverly Place follows the exploits of three young children who have inherited magical abilities from their father. Nonetheless, in each part, they are misusing their powers and must find a method to return to normalcy without people discovering that they are wizards. Disney figured out how to make magic entertaining without frightening their target consumers. The young wizarding trio is adorable.  However, the show should avoid using Harry Potter themes and stereotypes.
Camp Rock (2008), Maria Canals Barrera plays Connie Torres
Some things simply never go out of style, even if they may take on a different appearance for a particular setting. The Disney Channel feature Camp Rock transports viewers back to the days of the Mickey Mouse Club. If your child is musically talented, here is the place for them.  It's sort of like a Fame summer camp on the lake. Or, to put it another way, this is where Zac Efron and Vanessa Hudgens spent their summer before returning to East High. Joe Jonas plays the male lead. However, the plot revolves around Demi Lovato. She plays a talented young lady who aspires to go to Camp Rock. However, the cost is prohibitive for her parents. As luck would have it, Mom who's played by the Wizards of Waverly Place, Marie Canals Barrera gets a job at the camp.
Camp Rock 2: The Final Jam (2010), Maria Canals Barrera plays Connie Torres
Camp Rock 2 looks good, with nice photography, lovely outfits, and beautiful surroundings. The tunes are also enjoyable. Perhaps not as memorable or toe-tapping as the first in the series. Nevertheless, the tunes were lively and the lyrics were excellent and simple to sing along to. This does what it's expected to do as a sequel to a reasonably popular Disney film. It has a more powerful antagonist. The performances are more impressive. And, it's great to see the former cast members return as counselors, as well as recognizable faces like Maria Canals-Barrera. That is the natural progression that this sequel should follow. Overall, this film is well worth seeing for the dancing, melodies, and acting. It will bring a grin to your face.
Christela (2014-15), Maria Canals Barrera plays Daniela
Cristela (Cristela Alonzo) is a struggling law student looking for an unpaid internship. Even without pay, this is considered a once-in-a-lifetime opportunity. It's unusual to witness a regular TV sitcom that's truly funny. It was witty, amusing, honest, and at times self-deprecating. Cristela Alonzo has a quick wit and is intelligent, which is a rare mix on today's television. The one-liners are clever and amusing. Cristela is a pleasant new face in evening entertainment, and her mother and sister provide a truly amusing touch to the entire production. The interaction between family members was very real, and it can be applied to any family, regardless of ethnicity. That, too, was done in a pretty amusing manner. Maria Canals-Barrera is excellently cast, thanks to her genuine Catalan ancestry.
Maria Canals Barrera – Memorable Quotes
Fashion
I loved that I got to be practical but also fashionable and cute.  And, I love my clothes on the show I got to wear great bright colors and brands like Joe's Jeans and Michael Kors. I used to watch my Cuban mother getting ready singing, so to me, fashion has always been fun. I've incorporated the brighter colors; they look great off-camera as well. Have updated my jeans to a hipper, low-cut fashion. Heels I've always loved, but a wedge is perfect, in between glamorous and a common shoe. If going to the store, why wear flip-flops when you can wear wedges? – Maria Canals Barrera
Hawkgirl 
First of all, to even be part of this kind of company: Superman, Batman, Green Lantern, Martian Manhunter, Wonder Woman. It was like an honor that they even had Hawkgirl because her profile wasn't as popular as some of the others. We did it so long ago and I had both my children during the four years that we were recording the Justice League. So I joke with my girls, I said, "You know, you guys were part of it too. You were there every taping, every recording." It's been a wonderful experience. I mean, I had no idea how many fans already existed and how many more we would get. And so many people really appreciate it. Like I said, the fact that Hawkgirl's profile was raised with the Justice League and they have such affection for her. And I loved, loved being her. (Source:talknerdywithus.com) – Maria Canals Barrera
Wizards of Waverly Place
Every episode was so much fun. "Wizards of Waverly Place" was so well written and full of such randomness and funniness, I honestly enjoyed all of it. Magic as a premise made anything possible. One of my favorite memories from the set was when my eldest daughter, Bridget, was featured on the episode "Harperella". She had so much fun and was a total natural. Also, when we celebrated our 100th episode. That is not a common occurrence. To be part of a show that lasts 100 episodes is a tremendous blessing.
 I had such a great time as the mom on Wizards that I would love to play her one more time, or several times! I don't know if we'll have another reunion show episode or TV movie, but if they reached out to me and my schedule permitted, I would say, yes! – Maria Canals Barrera
Personal: Net Worth and Zodiac
Maria Canals-Barrera has an estimated net worth of approximately $2 million as of 2021. (Source: celebritynetworth.com)
Maria was born on September 28th.  That puts her under the zodiac sign, Libra – The Scales.
Librans are usually quite gregarious, well-balanced, and gifted artistically. However, as a negative aspect of their personality, they can come off as a little indecisive, shallow, and distant. You are generous and practical as a Libra born on September 28th. You enjoy making plans but don't always stick to them. There is a long list of individuals who have positive things to say about you.  Unfortunately, there is also a long number of people who have negative things to say about you.  Usually, it is because you are blunt and unafraid to speak your mind.
According to your SEPTEMBER 28 birthday horoscope, you are a charming and appealing person. You enjoy getting people's attention. Nothing compares to when you come into a room and everyone stops and stares. You have a charismatic and that one-of-a-kind personality. The Libra zodiac sign rules the 28th of September birthday personality. You may be a little overzealous, but you are still balanced. It's stated that you can use your charm to achieve what you want. Furthermore, Libra, you are unconventional due to your creativity and imagination. You have the power to communicate without using words. Needless to say, despite your positive birthday features, some individuals will dislike you. This is a fairly regular occurrence among those born today. The astrology for September 28th says that you are an impossible romantic. As previously stated, you are highly creative, and you employ this to achieve your dreams.
Maria Canals Barrera – Bits and Pieces
How tall is Maria Canals-Barrera?
Maria measures in at 5 foot 6 inches tall.
Where is Maria Canals-Barrera from and where did she go to school?
Maria was born in Miami, Florida.  She attended the University of Miami as an undergraduate.
Robert James Collier is a British actor and model. He is best known for his roles as Thomas Barrow in Downton Abbey and as Liam Connor in Coronation Street.
James-Collier was born and christened Robert Collier on September 23, 1976, in Salford, Greater Manchester.  However, he changed his name to Robert James-Collier to conform with Equity standards and avoid confusion with another actor of the same name.
St Patrick's Roman Catholic High School in Eccles, Greater Manchester, was where he received his education. James-Collier earned a bachelor's degree in business from the University of Huddersfield and a master's degree in marketing from the University of Manchester Institute of Science and Technology. James-Collier auditioned for the series Down to Earth despite having no acting experience. His raw talent persuaded stars Ricky Tomlinson and Denise Welch, and he landed the role as the womanizing bar landlord. In 2006, he starred in New Street Law and had a brief role as 'Stud' in Shameless season 3, episode 5 as Rob Collier.