Who is Madeline Carroll?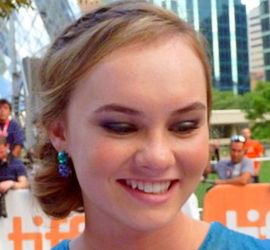 Madeline Carroll was born on March 18, 1996.  She is an American actress best known for her roles in Flipped, Swing Vote, Farren in The Spy Next Door, and The Magic of Belle Isle.
Early Career Details
Carroll was born in Los Angeles and raised there. Her mother is a homemaker, while her father is a building contractor. Ned, Jack, and Dylan are her three brothers. She began modeling when she was three years old. At the age of four, she was spotted at a nail shop in Sherman Oaks by a theatrical agent. Madeline began her career by appearing in advertisements and commercials for Allstate, Chef Boyardee, Kmart, Mr. Clean, Subway, Super 8 Motels, and Target Corporation.
Her debut cinematic role was in the 2006 horror picture When a Stranger Calls. Following minor roles in The Santa Clause 3: The Escape Clause and Resident Evil: Extinction, she landed her first major lead role in Swing Vote (2008), co-starring with Kevin Costner.  (Source: en.wikipedia.org)
Madeline Carroll – Career Highlights
Flipped (2010), Madeline Carroll plays Juli Baker
Flipped is a coming-of-age drama and one of filmmaker Rob Reiner's best. It is the summer of 1957  and Bryce, a 7-year old boy moves to a new area  The majority of the story takes place 4 years later in the early 1960s. It's surprising the film didn't create a bigger splash when it first came out. Perhaps it was just one of those pictures that slipped between the cracks.  When Bryce Loski (Callan McAuliffe) and his family relocate to the area, neighbor Juli Baker (Madeline Carroll) is smitten with him but no response from Bryce. Four years pass. Juli enjoys sitting in a very special tree. However, landscapers arrive one day to cut it down. She makes an attempt to save it on her own as Bryce abandons her.
What's great about the film is that the characters are all actual people. They are not all good or all bad.  They are simply humans striving to do what they believe is right despite their shortcomings. Madeline Carroll is very engaging. Callan McAuliffe is a little stiff, but that's the character's personality.
Swing Vote (2008), Madeline Carroll plays Molly Johnson
Bud Johnson (Kevin Costner) is a lousy lazy slacker who can't even hold down a job at the chicken egg factory. It's the 2004 presidential election, and he promises his daughter, Molly (Madeline Carroll) that he will vote as part of her school assignment. This is more of a civics lesson than a comedy. Bud is not a likable character. Then there are all the political manipulators and TV personalities. It devolves into an avalanche of intimidation, all aimed toward the heavy-handed notion that every vote counts. Bud's relationship with his daughter is the best part of this film. If it was more about that, the civics lesson could be taught in a more lighthearted manner. Madeline Carroll is the best of the bunch. The film suffers from general political tiredness. However, it works considerably better as a film about a troubled father-daughter relationship.
The Spy Next Door (2010), Madeline Carroll plays Farren
This film is about a spy who tries to abandon his profession and become a regular guy.  His objective is to marry the woman of his dreams, but disaster follows him. The Spy Next Door is a suitable film for both children and adults. It features a lot of action, but it's done in a lighthearted way that doesn't feel overly brutal. In fact, there is little if any bloodshed in any of the scenes. Instead, it delivers heartfelt messages about love and family.
The plot is formulaic in the sense that you know what will happen in the entire film after only twenty minutes.  Yet, it still manages to be an interesting and humorous piece of entertainment. Of course, Jackie Chan is the main reason for watching and enjoying this film. However, it's wonderful to see the supporting actors occasionally get in on the action. Madeline Carroll shines as the daughter, Farren.
The Magic of Belle Isle (2012), Madeline Carroll plays Willow O'Neil
Monty Wildhorn (Morgan Freeman) is a washed-up, depressed novelist. His nephew Henry (Kenan Thompson) arranges for him to spend the summer on Belle Isle. Charlotte O'Neil (Virginia Madsen) and her three daughters, Finnegan (Emma Fuhrmann), Willow (Madeline Carroll), and Flora (Nicolette Pierini), live next door. Finnegan enjoys telling stories. This is a feel-good film.  It will boost you up and inspire you if you give it a chance. The acting is decent, and Morgan Freeman always has the correct line to speak at the right time. He's also helped out by an excellent supporting cast.
Madeline Carroll – Memorable Quotes
I Can Only Imagine
When I was younger, I worked a lot and did a lot of big movies and then I just went to school for a while – high school and UCLA – and took a break for a minute and came back.  Right around the time I got this part [in I Can Only Imagine] I was going to quit acting, so it completely threw me back into the game. – Madeline Carroll
Being "Real"
I think a lot of people try and fit in with the times, which obviously is a good thing to reach the next generation. But to be honest with you, with authenticity and I think just giving them something real. I think the next generation is just craving something real because of social media and even the stuff that we have on TV nowadays, it's all very glossy. Every picture is filtered, everything's perfect, and I think they're just searching for the real thing, something real. And I think that that's the biggest mistake that I see happen is older people are trying to come down to the young adults level and it's like no, we just want to be pulled back to yours. They're looking for something real. That's why they look in all these different places, it's because they just want something real. (Source: namb.net) – Madeline Carroll
Refusing Acting Roles
I held out for years and I had passed on a TV show that I was going to have to do nudity in, and I remember my representatives telling me, Madeline, I don't understand what it is that you want. You're an adult now. I don't understand. Now that you're an adult, this is the kind of work that you have to do. This is what there is out there. So if you're not willing to do that, I'm not sure what you're willing to do. And so I don't know what there is for you. And I remember just being devastated, completely and utterly devastated. (Source: ibid) – Madeline Carroll
Don't quit
Yes. I think that sometimes it gets so overwhelming when you look around at other people and you think, Oh, they're already there. I'll never get there because it seems so far away. I know that that's why a lot of people my age deal with depression, is because they have such big dreams and they have this big vision on my heart, but they don't know the how. And so that gets really, really discouraging. And so I think the movement is momentum and I think just keep moving, keep moving in the direction that you want to go, and don't sit down. I remember I did the LA marathon a couple of years ago and I had never done it before in my life, got asked three days before I did it… and I never did it before. (Source: ibid) – Madeline Carroll
Personal: Net Worth and Zodiac
Madeline Carroll has an estimated net worth of approximately $3 million as of 2021. (Source: whatsthenetworth.com)
Madeline was born on March 18th.  That puts her under the zodiac sign, Pisces – The Fish.
Pisces can be impetuous and spontaneous.  Yet, they make good companions being romantic, affectionate, and caring. On the other hand, they can appear naive and somewhat shy. The shyness can make them susceptible to being misinterpreted as stand-off-ish. Some behavior patterns may abruptly shift, giving the appearance of perhaps being out of control.
These urges arise as a result of your awareness of your psychic powers. It's as if something is tugging you in one direction and no one else understands why. Your greatest issue is how you perceive yourself and how much weight you place on your intuition. You place a high value on what others have to say.  Yet, you are also self-confident enough to dismiss them when necessary. Avoid placing unrealistic expectations on yourself.
Bits and Pieces
How old was Madeline Carroll when filming Flipped?
The movie follows the love that blossoms between two tweens—philosophical Juli (Madeline Carroll, 14) and shy Bryce (Callan McAuliffe, 15). (Source: timeout.com)
Has Madeline Carroll ever appeared on Grey's Anatomy?
Madeline Carroll played Ivy Soltanoff in the season five Grey's Anatomy episode In the Midnight Hour. She also played Maggie Roberts in the season three Private Practice episode Triangles. (Source: greysanatomy.fandom.com)
Why did Madeline leave Scandal?
Carroll first appeared on the ABC political fixer drama during season three as the First Family's daughter visiting from boarding school. However, the actress could not return in season four due to scheduling issues. (Source: ew.com)
Will there be a Flipped 2?
No, there will not be a Flipped 2. The original was filmed years ago and the characters have moved on.  It would be difficult to pick up the storyline in a meaningful way.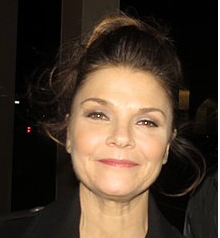 Kathryn Erbe was born on July 5, 1965.  She is an actress from the United States. She is most recognized for her role as Alexandra Eames on Law & Order: Criminal Intent, a Law & Order spin-off.  Also, as Shirley Bellinger in the HBO series Oz. Erbe, the daughter of Elsbeth and Richard Erbe, was born in Newton, Massachusetts. Her father is a research geneticist. She received her bachelor's degree from New York University (NYU) in 1989.
Early Career – Stage, Film & TV
Erbe joined Steppenwolf Theatre Company and has been in many of their productions.  Her stage appearances include A Streetcar Named Desire, Curse of the Starving Class, and The Grapes of Wrath, which ran for six months and received the Tony Award for Best Play in 1990. Erbe was nominated for a Tony Award in 1991 for her performance as Mary in The Speed of Darkness.  On the big screen, Erbe appeared in What About Bob?, Stir of Echoes, Rich in Love, as well as the independent films, Dream with the Fishes, Love from Ground Zero, and Entropy. In Kiss of Death, she co-starred with David Caruso.