Who is Kathryn Erbe?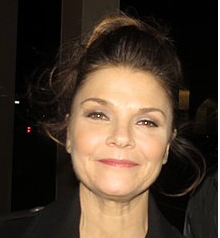 Kathryn Erbe was born on July 5, 1965.  She is an actress from the United States. She is most recognized for her role as Alexandra Eames on Law & Order: Criminal Intent, a Law & Order spin-off.  Also, as Shirley Bellinger in the HBO series Oz. Erbe, the daughter of Elsbeth and Richard Erbe, was born in Newton, Massachusetts. Her father is a research geneticist. She received her bachelor's degree from New York University (NYU) in 1989.
Early Career – Stage, Film & TV
Erbe joined Steppenwolf Theatre Company and has been in many of their productions.  Her stage appearances include A Streetcar Named Desire, Curse of the Starving Class, and The Grapes of Wrath, which ran for six months and received the Tony Award for Best Play in 1990. Erbe was nominated for a Tony Award in 1991 for her performance as Mary in The Speed of Darkness.
On the big screen, Erbe appeared in What About Bob?, Stir of Echoes, Rich in Love, as well as the independent films, Dream with the Fishes, Love from Ground Zero, and Entropy. In Kiss of Death, she co-starred with David Caruso.
In television, Erbe was cast as the daughter of Lynn Redgrave's character on the sitcom Chicken Soup (1989), while an undergraduate student at NYU.  She received critical acclaim for her role as Shirley Bellinger in the HBO series Oz. In 1997, she appeared as a guest on Homicide: Life on the Street. She co-starred with Vincent D'Onofrio as Detective Alexandra Eames on the NBC/USA Network series Law & Order: Criminal Intent (2001 to early 2010). Both Erbe and D'Onofrio quit Criminal Intent in 2010. However, Erbe agreed to reprise her role as Detective Eames for the series' final eight-episode season.
Kathryn Erbe – Career Highlights
Law & Order: Criminal Intent (2001-11), Kathryn Erbe plays Detective Eames
This is a spin-off of the popular TV show Law & Order, However, it deviates from the original's formula. Criminal intent follows Detective Robert Goren (Vincent D'Onofrio) of the NYPD Major Case Squad and his partner Alexandra Eames (Kathryn Erbe). The distinction is the decision to focus primarily on these two detectives. In that regard, it's more akin to police dramas from the past. Also, the narratives are more focused on the psychological part of things than the other two shows.  The series is engaging and compelling, and never too simplistic to be predictable.  The writing is humorous, yet intelligent and the acting is excellent.  The series brings to life the best and brightest in the entire Law & Order franchise.
Chicken Soup (1989), Kathryn Erbe plays Patricia Peerce
The series focuses on an interfaith relationship between a Jewish man, Jackie Mason, and an Irish Catholic woman, Lynn Redgrave. Jackie Mason portrays Jackie Fisher, a Jewish male, and Lynn Redgrave portrays Maddie Peerce, an Irish Catholic lady.  The couple grapple with their gender, faith, and attitude on life as they pursue a relationship. The Donovans, Jackie and Maddie's friends and neighbors, as well as the Pierce family, play supporting roles.  Kathryn Erbe plays Patricia, the daughter.  The series enjoyed solid ratings.  Nevertheless, it ran only one season and was not renewed.
Oz (1998-2003), Kathryn Erbe plays Shirley Bellinger
Oz is considered by many to be one of HBO's best shows ever. It's rough and violent, but it's also engrossing and intriguing. The production values are superb, with very high quality, skilled photography, and a realistic environment. The writing is excellent.  But, be warned.  This is not for the faint of heart.  Also, it may take a season or two to completely grasp some of the story and character arcs. Some of the details may seem trite, but they are as genuine as they can be. Oz boasts some of the best acting on TV right now.  But it also has some of the best acting in general, period. And that is where this show excels. It portrays prison life so convincingly that it depicts everything, leaving little to the imagination. There's no Shawshank Redemption here and no kindly Green Mile guards keeping peace and order.
How to Get Away With Murder (1998-2003), Kathryn Erbe plays Jacqueline Roa
Annalise Keating (Viola Davis) is a sought-after law lecturer as well as a well-known hard-charging defense attorney willing to go to extremes. Keating spends her time between her professorial responsibilities and her law practice, where she represents a number of high-profile defendants. The series is a raunchy blend of law and murder that moves at a brisk pace.  The series provides excellent acting and intriguing group dynamics. Aside from classroom sequences, casework is done in support of her profession replete with actual courtroom scenes.  The show contains an overarching subplot regarding a murder that involves her prize students.
Kathryn Erbe – Memorable Quotes
Success
I think people have different definitions of success. For me, success has meant having a rich family and personal life outside of my work. My commitment to my family has compromised my freedom to be ambitious. That's not always comfortable or easy, but I am always deeply grateful that that's how I have chosen to navigate this career. But, that's what keeps me sane and grounded in the face of surface, shallow, or flashy things. It's what works for me. And that's really the advice I have to give. – Kathryn Erbe
Stage Acting vs TV
Oh, it's totally different. I actually did two 10-minute plays at Atlantic here this summer, just for five performances to open their 99-seat theater. It's their 20th season, and I'm a member of that theater as well. I forgot how scary plays are. The audience is so much a part of the night—I know that a lot of it is trying to shut that out and just do your own thing. I mean Stella, that was such an epic, epic play, and I got completely sucked into that life. I really wanted to go and be living in 1940s New Orleans, and I completely rationalized all the abusive aspects of the relationship. It really scared me because I think when you're doing a play, it just seeps in, particularly in Steppenwolf. – Kathryn Erbe
Political Theater
That's where I thought I would go when I was in college. I was very interested in political theater, and I did a lot of it while I was at school, and imagined myself having that kind of life–doing theater for specific communities to try to bring about activism and be an activist myself. Somebody might go to see Craig's piece and think it was a political statement in that my character had both a husband and a girlfriend, but it was just up there. The Grapes of Wrath could be considered political, and Speed of Darkness was about Vietnam vets and how their lives were altered by the war. – Kathryn Erbe
Personal: Net Worth and Zodiac
Kathryn Erbe has an estimated net worth of approximately $4-8 million as of 2021. (Source: celebritynetworth.com & therichest.com)
Kathryn was born on July 5th.  That puts her under the zodiac sign, Cancer – The Crab.
Your sun sign is Cancer, based on your July 5 birthday. According to the Cancer Birthday horoscope, you are likely to be a person with a lot of charisma. And, you are endearing and caring and people are smitten with your warm demeanor. Cancer can also be self-sufficient with a few innovative hobbies and employment options. Nevertheless, you can be grumpy and erratic, as are most people born on July 5. Conflict or drama will most certainly turn you off. You have very limited tolerance for anything that is not of a positive character.
People born on July 5 are typically loving and emotional. They value intimate emotional relationships with people over broad socialization. Only a select few are allowed to be a part of their inner circle. As a result, they make excellent companions. But, watch out for the negative aspects of their personality.  They can be irritable, suspicious, and overprotective.
Kathryn Erbe – Bits and Pieces
Was Kathryn Erbe ever on Blacklist?
Erbe starred as Detective (and later Lieutenant) Alexandra Eames on Law & Order: Criminal Intent from 2001 to 2011.  She guest stars in a Season 8 episode of The Blacklist as Lois, a cynical cop.
Why did Kathryn Erbe leave Law and Order?
Erbe spent a decade working on Criminal Intent, though she appeared less frequently in the later seasons. She left when the show finally came to end in 2011,
What is Kathryn Erbe doing now?
Erbe can be seen in the Showtime series City on a Hill, as well as in the upcoming films Life After You and Red Pill. She also continues to work in the theater. She'll be heard (but not seen) in Steppenwolf's radio play production of Arthur Miller's Great Depression-era drama The American Clock.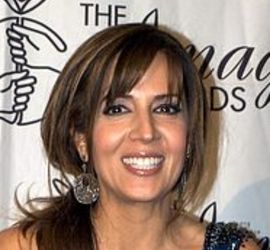 Maria Canals Barrera was born on September 28, 1966.  She is an American actress.
Canals-Barrera has co-starred in a number of sitcoms, has appeared in a number of films, and provided voices over the course of her acting career. Her most well-known role was as Theresa Russo in the Disney Channel family sitcom Wizards of Waverly Place (2007–2013). She also appeared as Connie Torres in Camp Rock (2008) and Camp Rock 2: The Final Jam (2010), and as Lala Pinedo in Larry Crowne (2011). Canals-Barrera featured as Daniela in the ABC comedy series Cristela from 2014 to 2015.
As a voice actor, Maria is best known as the voice of Shayera Hol/Hawkgirl In Justice League and Justice League Unlimited. She also played Sunset Boulevardez in The Proud Family on Disney Channel and Paulina in Danny Phantom on Nickelodeon.