Who is Ray Stevenson?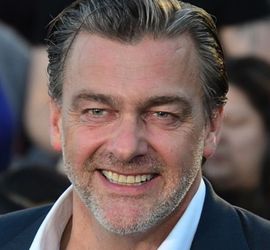 Ray Stevenson (George Raymond Stevenson) is a Northern Irish actor who was born on May 25, 1964. He is most recognized for his roles as Dagonet in King Arthur (2004) and Titus Pullo in the BBC/HBO television series Rome (2005–2007). Stevenson played two Marvel Comics characters: Frank Castle, The Punisher in Punisher: War Zone and The Super Hero Squad Show, and Volstagg in Thor and its sequels Thor: The Dark World and Thor: Ragnarok. He played mobster Danny Greene in the film Kill the Irishman (2011), and he played Porthos in The Three Musketeers (2011). Next, he appeared as Ukrainian gangster Isaak Sirko in Dexter's seventh season (2012). In the third and fourth seasons of the series Black Sails, he played the character, Blackbeard. From 2016 to 2017, he portrayed Gar Saxon in Star Wars Rebels, and in 2020, he appears in Star Wars: The Clone Wars.
Ray (George Raymond) Stevenson was born in Lisburn, Northern Ireland.  He is the second of three sons to Irish parents. His father was a pilot in the Royal Air Force. He relocated to England with his family when he was eight years old.  First, to the Lemington suburb of Newcastle upon Tyne and then to Seaton Delaval. He graduated from the Bristol Old Vic Theatre School at the age of 29. (Source: en.wikipedia.com)
Ray Stevenson – Career Highlights
Punisher: War Zone (2008), Ray Stevenson plays Frank Castle (Punisher)
Frank Castle (Ray Stevenson) is the deadly vigilante Punisher. He pursues a legendary mob family, but crazy henchman, Billy Russoti (Dominic West) flees and gets away. Billy then assumes control of the family crime business. Justice prevails when the Punisher apprehends him and throws him into a glass crusher. The film is a semi-sequel to the 2004 original. Ray Stevenson takes over from Thomas Jane in a standalone film about his vendetta against a criminal group. The action scenes are top-notch since they are fast-paced, well-shot, and hard-hitting. There is an actual story with this film, complete with developed characters and emotions. Frank Castle is a beast filled with repressed hurt and an eye toward vengeance. Stevenson is the ideal actor to play him. is a solid action film, developed at an appropriate pace.  There is a decent storyline, excellent acting, spectacular effects, and a soundtrack.
The Three Musketeers (2011), Ray Stevenson plays Porthos
Visually, the film appears amazing. The costumes are realistic, the Bavarian countryside is breathtaking, and the photography is superb. The music is appropriately rousing and lively and the direction is competent.  In the action sequences, the swordplay and acrobatics are entertaining and well-choreographed. Those expecting a true adaptation of the original story will be dissatisfied.  However, those prepared to accept it for what it is will love it. Ray Stevenson gives a solid supporting portrayal of Porthos. Regardless of how many Three Musketeer films there are, this will not be remembered as the best adaption ever. It's not the best, but it's also not the worst. This version features opulent settings, stunning action, court intrigue, and thrilling swordplay. What's not to appreciate? It's bigger than the last version, and they've smartly included the most recent special effects. It results in an enjoyable new interpretation of this classic story.
Insurgent (2015), Ray Stevenson plays Marcus Eaton
Insurgent is a sci-fi, action, and drama film based on Veronica Roth's novel of the same name. Tris Prior (Shailene Woodley) is sixteen years old and lives in a dystopian world separated into five factions. She is now looking for answers in the wreckage of a futuristic Chicago. The supporting cast, which includes Zoe Kravitz, Ray Stevenson, Kate Winslet, Naomi Watts, and Ashley Judd, is just outstanding. This is a well-executed sequel that omits the endless training sessions and is more urgent than the first. The simulations are graphically imaginative and intriguing.  But, not so amazing that they detract from the tale. Naomi Watts is beautiful as a brunette.  However, she appears far too young to have a son Theo James's age. Overall, a gratifying second act with a pleasant and appealing ensemble.
The Transporter Refueled (2015), Ray Stevenson plays Frank Martin Sr.
Frank Martin (Ed Skrein) is the transporter.  He is a professional driver for hire with a personal code. Ray Stevenson plays his father, a recently retired British secret agent. Anna (Loan Chabanol) and her three lovely friends hire Frank. Unsuspecting, he is drawn into a bank robbery revenge plot against a Russian mobster. It turns out that this particular Russian had trafficked the girls into sex slavery fifteen years before. When Frank Jr. attempts to back out of the deal, the girls disclose that they have kidnapped his father, Frank Sr. The film offers stunning scenery on the French Riviera with beautiful exotic women exacting vengeance on a Russian gangster. The film is enjoyable as action films go.  However, at times it comes off as an extended Audi commercial. This film features a diverse cast of exotic and gorgeous women.  And, the females are in charge in this film.
Ray Stevenson – Memorable Quotes
The Three Musketeers
We shot that on location in Germany. There were some incredible locations in Bavaria. I played Porthos … again, he was larger than life and he has a certain attitude towards life. We filmed that movie with the Avatar cameras, in 3D. The sword fighting on that one … the discipline involved was incredible because they can see around you. You can't just technically lay off on the swords; everything has to be on target. With all the time we spent rehearsing the fights … if we hadn't rehearsed, you'd see misses. That was a particular challenge. I got to work with some great swords people who trained us on that. (Source: theactionelite.com) – Ray Stevenson
Blackbeard
I think about it because it's a huge responsibility, to make sure that everything is in place to enable the realization of a character like that. I wouldn't want to jump at Blackbeard without considering it first. When I saw the "Making of" Black Sails, it just blew me away. They put their money on the screen. They're not afraid to spend it. Their production values are through the roof. I knew that the world around which it existed was going to be there. The costumes were going to be there, the armor … there's no better realization to creating a character like this. It's not just going to be an hour and a half or two hours like it would be in a movie. You're getting an hour per episode. There's time to develop this character all the way through. (Source: ibid) – Ray Stevenson
What's next?
I don't know, I love the comedian aspect of this work, and I'm up to the challenges that come with that. I've been blessed to be able to play a range of different characters. I'm just delighted to see what's coming up next. I just think to myself how lucky I've been. Also, I delight in doing movies that are not in my demographic, like doing movies that are not just the sorts of movies that I want to see. I don't only want to movies that are for my peer group. No, that's not my job as an actor. I delight in trying to flesh these people out and make them into a reality. (Source: ibid) – Ray Stevenson
Personal: Net Worth and Zodiac
Ray Stevenson has an estimated net worth of $8 million as of 2021. (Source: celebritynetworth.com)
Stevenson was born on May 25th.  That puts him under the zodiac sign, Gemini, the Twins.
Geminis born on May 25 are energetic, laser-focused, and they thrive being in the fast lane. They have a strong desire to achieve and frequently prioritize their professional goals over their personal connections. These Gemini natives are not loners in the classic sense.  However, they do not have a strong need for the companionship of others. As a result, they often refuse to give up their independence in order to build a relationship.  So, watch out – love and romance might be challenging. A possible mate must be willing to play second fiddle to career aspirations most of the time.
Ray Stevenson

 – 

Bits and Pieces
Is Ray Stevenson in Game of Thrones?
You might know Ray Stevenson as Volstagg in Thor: Ragnarok. The Aussie actor was never offered a role on Game of Thrones, but he did reveal to news.com.au that he auditioned, although half-heartedly. … '" (Source: news.com.au).
Where is Ray Stevenson from and how tall is he?
Ray was born in Lisburn, United Kingdom born 25 May 1964.  The actor is listed to be between 6 feet 3-4 inches tall. (Source: en.wikipedia.com)
Is Ray Stevenson married?
Stevenson married English actress Ruth Gemmell in London in 1997. The couple met on the production of Band of Gold (1995) and later played a married couple in Peak Practice (1997). After eight years of marriage, they divorced in 2005. Stevenson has been in a relationship with Elisabetta Caraccia, since 2005.  Together, they have three sons. (Source: ibid)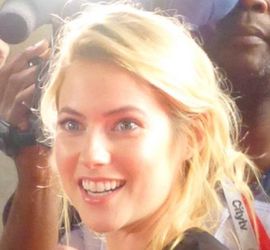 Laura Ramsey was born on November 14, 1982.  She is an American film and television actress. She is best known for her roles in films such as She's the Man (2006), The Covenant (2006, The Ruins (2008), Middle Men 2009), Kill the Irishman (2011), and Are You Here (2013).
Ramsey is the daughter of Jill and Mark Ramsey.  The actress was born in Brandon, Wisconsin. In 2001, she graduated from Laconia High School in Rosendale, Wisconsin.  She then went on to Ripon College in Ripon, Wisconsin.
Ramsey was discovered while working at a restaurant on Sunset Boulevard.  She was given an audition the next day for a job she later won—The Real Cancun.  It was a documentary about the genuine exploits of numerous American adolescents in Mexico. She subsequently landed a recurring part in ABC's The Days, before making her feature-film debut in Catherine Hardwicke's Lords of Dogtown (2005). Ramsey returned to television and made a memorable cameo in an episode of the AMC series Mad Men titled "The Jet Set." The actress was also featured as Becca Brady in the VH1 drama series Hindsight in 2015. (Source: en.wikipedia.com)