Who is Jack Quaid?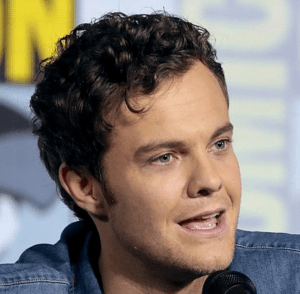 Jack Henry Quaid was born on April 24, 1992.  He is an American actor and voice actor. His parents are both famous actors – mother, Meg Ryan, and father, Dennis Quaid.
Education – Early Career
Jack attended NYU's Tisch School of the Arts for three years.  Quaid made his acting debut with a minor role in the dystopian film The Hunger Games (2012) before his break-out role as vigilante Hughie Campbell in the Prime Video superhero series The Boys (2019–present). Among other roles, Jack appeared in the romantic comedy Plus One (2019), and as part of the main cast of HBO's Vinyl (2016).  He has had numerous voice acting roles including  Brad Boimler in Star Trek: Lower Decks (2020-present). Jack is set to star in the upcoming fifth installment of the Scream franchise scheduled for release in 2022.
Following his involvement with the Hunger Games, Quaid took part in a series of independent films, including his own film Roadies.  Quaid was also part of the comedy troop Sasquatch Sketch from 2013 to 2017. The group produced dozens of comedy videos and performed live in the Los Angeles area.
Awards
Nominated: MTV Movie & TV Award for Best Hero for his role in The Boys (2019)
Jack Quaid – Career Highlights
The Boys (2020)  Jack Quaid plays Hughie Campbell
The show takes place in a world in which superheroes are big celebrities.  However, they are also corrupt and abuse their power. Jack plays a member of the vigilante group who tries to take them down. He was recently nominated for an MTV Movie & TV Award for Best Hero for his role on the show.  In an age where superheroes have gone corporate, they are micromanaged and controlled by PR managers from the Vought megacorporation. They are household brand names used for theme parks, movies, and popular fast foods. They still do superhero stunts, but only when their speaking engagements allow the opportunity to squeeze them in. Otherwise, they are corrupt and not so nice to be around, regularly abusing their power for personal gain. You'd hate them if you knew what they were really like.  Hughie Campbell (Jack Quaid) knows what they are really like.
Plus One (2019)  Jack Quaid plays Ben King
Two people who are perfect for each other run around southern California keeping each other company during wedding season.  Misery loves company.  Clearly, it is more tolerable to endure mandatory appearances at friends' weddings with a partner.  So, Ben (Jack Quaid) and Alice (Maya Erskine) agree to be each others' "plus one".  Of course, they are terrific together, but damaged and defensive enough that they don't quite get it.  Alice is foul-mouthed and impulsive, on the rebound from a bad relationship.  Ben is her nerdy bestie with unreasonable expectations about meeting and falling for the perfect mate.  The chemistry between the two is undeniable.  Also, the banter and dialogue are crisp, sharp, and often laugh-out-loud funny.  Anyone with half a brain can see where this is heading.  Nevertheless, the characters and the actors portraying them are engaging and likable.
Vinyl (2016)  Jack Quaid plays Clark Morelle
Vinyl is set in New York in 1973.  The story follows Richie, who appears to be a successful record label owner who is about to sell out to a German conglomerate.  Sex, drugs, rock-and-roll are clearly the focus and on display.  Initial reviews were mixed but became mostly unfavorable as the series progressed through the first season. For those who lived through the 70s, maybe the show doesn't capture the reality of individual memories and experiences.  Yes, the show portrays addiction and excess with no make-up and all the warts exposed.  But, then again, that's kind of the whole point, isn't it?  Music was a nasty business in the 70s.  It was full of evil and bad people preying on those with real talent.  Find an unknown, milk him for all he's worth, toss the carcass, rinse and repeat…
Jack Quaid – Memorable Quotes
I've been in a relationship for three years, so I've been out of the game for a bit. But if anyone was like, "Should I call her?" I'd be like, "Just call her, man." If there was a connection, then the other person is probably waiting for you to text or call. We live in a much faster world than we used to, so I think that taboo is kind of done. I mean, probably don't text immediately, but you can do it the next day. I don't think that would throw me. If I had a really good time with someone and they texted me the next day, I'd be like, Great, that's awesome. I don't think we have to go by a calendar when it comes to texting. As long as you're not being creepy about it. – Jack Quaid
I watch a lot of UFO documentaries just to, I don't know, belief in something. I go on Netflix, and there are so many that are made. What I always find fascinating about them is that it could be a documentary that makes you think about stuff or just present evidence to you or something. But they all have to be very like, "Ooh, aliens," and they use the green font and weird graphics to get into the kind of like X-Files aesthetic of it, and it's like, we don't need to do this. I will believe you more if you don't get into the "ooh, so scary and creepy!" science fiction aspects of it…. Also, around Christmas, my girlfriend and I get way too into these Hallmark movies. You have to, they're a great watch. – Jack Quaid
Net Worth and Zodiac 
Jack Quaid has an estimated net worth of approximately $2 million as of 2021. (Source: wealthygorilla.com)
Jack was born on April 24th.  That puts him under the zodiac sign Taurus the Bull.
BIRTHDAYS ON APRIL 24 predict that you tend to be a traditional personality type with good old-fashioned family values at your core.  For you, family is at your core and it takes priority. Your roots give you strength and confidence.  You are not afraid to take risks and reach for greatness.  You respect others and demand it in return.  Fortunately, your easy-going demeanor earns you that respect without ruffling feathers.  Be careful not to push anything to excess.  Moderation is a virtue and you understand the meaning of the saying "less is more".  Patience is another virtue that you demonstrate toward others – and that you expect in return.
You are kind-hearted and don't take yourself too seriously.  As a parent, you have a tendency to be controlling.  Of course, you only want the best for your children and to protect them from a cruel world.  However, don't shelter them so much that they don't learn to spread their own wing to fly by themselves one day.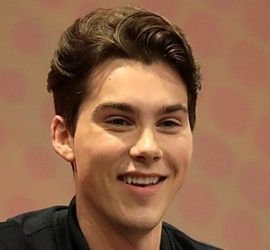 Jeremy Shada is an American actor, voice actor, singer, and musician.  He is probably best known for his voice work in Adventure Time as Finn, and Voltron: Legendary Defender as Lance.
Jeremy Shada was born on January 21, 1997, in Boise Idaho. In addition to his voice work in Adventure Time and Voltron: Legendary Defender, he also stars as various characters in the sketch-comedy series Incredible Crew.  Most recently, Shada appears as Reggie Peters in the Netflix television series, Julie and the Phantoms (2020).
Additionally, Shada is the bass player and backup vocalist in the Los Angeles-based pop-punk rock band Make Out Monday. The band includes Jeremy's brother Zack Shada and friends Logan Charles, John Spicer, and Seth Renken.
Early Acting Career 
Jeremy's family moved to Los Angeles when he was seven years old.  Soon after, he began acting with the inspiration and encouragement of his older brother Zack Shada. Jeremy first appeared in commercials, but then began seeking voice acting and theatrical roles. His first live-action theatrical role was playing Kurt Diamond in No Rules.  Because of his acting schedule, Jeremy was homeschooled.  He has stated that he graduated from high school early in May of 2013.