Who is Scott Grimes?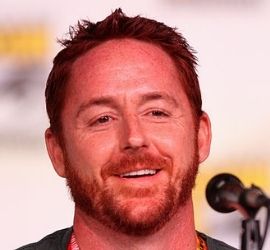 Scott Grimes is an American actor, voice actor, singer, and songwriter. He was born in Lowell, Massachusetts on July 9, 1971. As an actor, he starred as Jack Randall in the television series Nothing Is Easy (1986-1987).  He starred as Garth in the TV series Goode Behavior (1996-1997)  Also, Grimes starred as Will McCorkle in the series Party of Five (1994-2000). In 2001 he starred as Sergeant 1st Class Donald Malarkey in the highly-acclaimed TV mini-series Band of Brothers.
Early Acting Career
Grimes started acting at an early age. At the age of 13, he co-starred with Mickey Rooney in a made-for-TV holiday movie titled It Came Upon the Midnight Clear (1984).  He appeared in the Little Boy Lost episode of the Twilight Zone (1985).
Grimes starred in 112 episodes as Dr. Archie Morris in the television series ER (2003-2009). He voices the role of Steve Smith in the TV series American Dad! (2005-present) and also voiced the role of Kevin Swanson in the series Family Guy (2011-2015). Grimes also starred in big-screen, blockbuster movies including The Night They Saved Christmas, Crimson Tide, Robin Hood, and Winter's Tale.
Singing Career 
Grimes also began singing as a child. March 1986, he appeared on a Bob Hope TV special that was taped in Sweden in front of the King and Queen of Sweden.  Grimes sang Somewhere Over The Rainbow. In 1987, he performed as a guest vocalist on the Time album by Richard Carpenter of The Carpenters.  Carpenter thanked the 15-year-old Grimes for his "spirited" performance, commenting in the liner notes, "I believe young Scott to have quite a future in music." Grimes' first music album, Scott Grimes (1989) was produced by Carpenter and released by A&M Records. It included the single I Don't Even Mind.  Scott released his second album, Livin' on the Run (2005), and in 2010 his third, Drive. His single, Sunset Blvd reached #18 on the US Adult Contemporary chart. (Source: enwikipedia.org)
Scott Grimes Defining Roles
Band of Brothers (2001)  Scott Grimes plays Sergeant 1st Class Donald Malarkey
Band of  Brothers follows the progress of a parachute infantry unit.  Coverage begins just before D-Day until after the company captures Eagle's Nest, Hitler's mountaintop fortress near Austria at the end of World War II.  It is an epic, ten-part adaptation of Stephen E. Ambrose's bestseller.  The series presents an exceptionally detailed and sharply focused look at the war.  However, it is presented exclusively from the point of view of men who were in the line of fire.  And, it continuously gives this perspective for a year's time at the European war's climax.  Each episode has a unique feel generated by the different locations as the story unfolds. All reflect on and empathize with the trials of war that the men must face.
American Dad! (2005-present) Scott Grimes voices Steve Smith
American Dad is from Family Guy creator, Seth MacFarlane.  It is the animated story of Stan Smith, who works for the CIA.  Stan is constantly on the alert for terrorist activity. And, he will go to any lengths necessary to protect America from harm.  Steve Smith is the dorky son.  He tries to act cool, but he fails.  On the verge of puberty, he just can't quite make the transition. He tries desperately to raise his social status.  But, no matter what he does, he's still just a dork.  Even after a decade and a half, the show continues as strong as ever.  The writing is strong and the jokes are great.  The show manages to cleverly present common human emotions, but with outlandish twists.
The Orville (2017-present) Scott Grimes plays Lieutenant Gordon Malloy
The Orville follows the adventures of Captain Ed Mercer (Seth MacFarlane) and the crew of the U.S.S. Orville.  If that sounds a little Star Trek-y, that's because it is.  Real Trekkies call it a rip-off.  New fans refer to it as an homage to the original with a sense of humor.  The Orville soars through space on an exploratory mission 400 years in the future.  Critics tend to trash the show giving it a failing grade.  Fans, on the other hand, tend toward the B-plus and A-minus range.  So, be careful who you follow for your review.  It's best to watch few episodes and judge for yourself.
Scott Grimes Memorable Quotes
American Dad!
My job on that show is just to say the words just as Seth wrote them. They edit them, make them funnier. But to play a perpetual fourteen-year-old kid has been terrific. We treat the show the same as we would a real show, not a cartoon; we do read-throughs every week, we try to make it funnier… It's never been really much different from doing a live-action thing; we concentrate on it just as hard, because the money's good and I wanna make everybody proud! So, to play Steve Smith has been great, and also to incorporate music, that's been a fun thing to include. The show would've been canceled by now if we didn't keep evolving!  – Scott Grimes
I never really did voices, and Seth called me up and said "I'm doing this show called American Dad!, can you come up with a voice?" I went in, so nervous because Seth has all these amazing voices! And I just came up with this one voice that was really harsh, kinda like an exaggerated version of what Steve is now. But it was the only voice I could come up with, and I was scared that he'd hear the voice and go "Okay, great. What else ya got?" And I didn't have anything else! So, I did this voice and he told me it was good, but not to try so hard. So, I didn't try so hard, and that was the voice we settled on! The thing is though, it's more about the humor you can bring to the character, not just the voice. – Scott Grimes
The Orville
When we were initially making it I didn't know what we were making. You have to trust the vision of the person that's at the helm, which is Seth MacFarlane, that he was making what he thought was the next, well, maybe not the next, but an evolution of television. It's what he wanted to see: Some optimistic version of the future, instead of the kind of dark world, like what the future [we] always see. And I love movies like that, like Blade Runner, Avatar, and obviously lots of other movies. This is more [along the lines of] what if we figure it out and everybody is happy. So I really think it's become a fan favorite because it's acted and directed by a fan of this genre. And it's doing well because it's new. – Scott Grimes
It's so funny, getting the opportunity to live a child's dream of pretending that you're in space with creatures, and being on a spaceship, in general, but it's the toughest job that I've had to do, as far as working with Seth [MacFarlane]. You try to raise yourself to what he expects and wants and sees in the project, which is not easy all the time. It's tough, on that level, to try to make him happy. I'm not saying that he's a tyrant. He's terrific to work for, but he's also a comedic genius. He's trying to make a specific show and be taken seriously, at the same time, so that's a fine line that we ride. But yes, it's an absolute blast, on the fantasy side of when you were a kid who was pretending to be a spaceman. – Scott Grimes
Net Worth and Zodiac Sign
Scott Grimes net worth:  Scott Grimes has a net worth of $5 million dollars. (Source: celebritynetworth.com)
Scott was born on July 9th.  That puts him under the zodiac sign of Cancer the crab.
A JULY 9th Birthday predicts a warm personality that is vulnerable and kindhearted. However, it is typical for Cancer's to offer a helping hand to anyone in need – strangers, friends, and family. This person is delightful to be around and helpful in a pichh. The July 9th birthday specifically indicates that you appear worldly and wise.  Most, however, do not appreciate that you learn by experience and your own mistakes and hard knocks.  But, you are a quick study and catch on quickly through observing other talented and ambitious people.  You understand that success is not measured in how you dress, or the flashy car you drive.  Success is measured by respect and  personal achievement.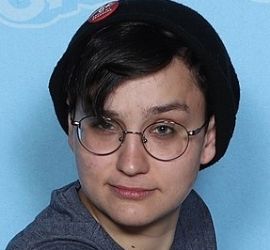 Rebecca Edison Bex Taylor-Klaus is an American film, TV, and voice actress.  She is best known for her roles in the TV series The Killing (2013), Arrow (2013-2015), and Scream (2015-16).
Bex Taylor Klaus was born in Atlanta, Georgia on August 12, 1994. She started acting in primary school performing Shakespeare in third grade.  Determined to make acting her career, she moved to Los Angeles in 2012. In 2013 Klaus starred as Bullet in the television series The Killing.
Career Highlights
Klaus' first professional acting role was the starring role of Bullet in the television series The Killing (2013). She later won a Joey Award for her portrayal.  In 2014 she starred as Lex in the TV comedy House of Lies. Following that, she starred as Sin in the superhero drama series Arrow (2013 to 2015). From 2015-2016 she starred in 24 episodes as Audrey Jensen in the television horror series Scream: The TV Series. 2016-2018 saw Klaus voice the roller of Katie "Pidge" Holt in 73 episodes in the Netflix animated series Voltron: Legendary Defender. On the big screen, Bex starred as Bronwyn in the movie The Last Witch Hunter (2015). Klaus has also appeared in episodes of the TV series The Librarians, Glee, and iZombie. In 2014 she won a Joey Award for Young Ensemble Cast in a Dramatic TV Series for The Killing.