Who is Josh Segarra?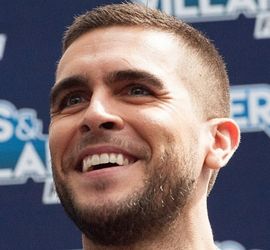 Josh Segarra is an actor from the United States born on June 3, 1986. He is best known for his recurring appearances on television shows including The Electric Company (2009-2011), Sirens (2014-15), Chicago P.D. ( 2014-16), Arrow (2016-19), Orange Is the New Black (2018-19), and The Other Two (2019-Present). His other television credits include Homeland, The Following, Blue Bloods, and The Good Cop to name a few.
In theater, Josh starred as 'Boland' in The Second Stage Theater's production Dogfight.  The versatile actor also starred as 'Mick' in the Off-Broadway and Broadway runs of the critically acclaimed production Lysistrata Jones. and as 'Emilio Estefan' in the musical On Your Feet!.
Segarra was born in Longwood, Florida. He is of Puerto Rican descent and is bi-lingual fluent in English and Spanish. He learned to sing in his Pentecostal church and initially aspired to be a professional wrestler. His early passion for theater was nurtured when he starred as the "Cowardly Lion" in the Orlando Youth Theatre's production of The Wizard of Oz. Segarra is a graduate of NYU's Tisch School of the Arts. (Source: en.wikipedia.org)
Josh Segarra – Career Highlights
Sirens (2014-15), Josh Segarra plays Billy Cepeda
Sirens is a well-cast comedy sitcom about a paramedic station and the odd situations they face on the job and in their personal lives. The lines blend seamlessly, and all of the characters, even the odd ones, feel genuine, one-of-a-kind, and lovable. It's hardly great art, but it's snappy, humorous, and interesting.  Surprisingly, it's written for an educated audience. Nonetheless, it's entertaining to see. Every episode delivers at LEAST a couple of solid laughs. The characters are odd but likable, and appear normal without having to over-act their characters. In terms of age, ethnicity, gender, creed, religion, and so on, the characters reflect a good cross-section of the population. Billy Cepeda, Theresa's police officer partner, is played by Josh Segarra.
Chicago P.D. (2014-16), Josh Segarra plays Justin Voight
The Chicago Police Department's District 21 is divided into two main divisions. The uniformed cops comprise the front lines, followed by the Intelligence Unit. Both organizations go up against the city's most terrible criminals, dope traffickers, serial killers, mobsters, and others. The Intelligence Unit is led by Det. Sgt. Hank Voight (Jason Beghe). Antonio Dawson (Jon Seda)  his second-in-command, is by his side. Each episode introduces viewers to the brutal reality of life in a Chicago Police Department unit. This is the epicenter of the city's anti-crime campaign. The police go about their work willing to breach the very laws that they are sworn to enforce. Justin Voight, Voight's son, is played by Josh Segarra. In the third-season finale, the character was slain.
Arrow (2016-19), Josh Segarra plays Adrian Chase a.k.a. Prometheus
Stephen Amell plays Oliver Queen, a missing billionaire who returns after being shipwrecked for five years. He resumes his playboy lifestyle during the day, but at night he transforms into a vigilante to right the wrongs in the city. Arrow is darker than most comic and movie superheroes, and Amell portrays him as such. He doesn't have any superhero abilities, just highly developed natural skills.
Arrow follows the action hero model, but it's a more mature take on the genre. The main characters are well-rounded, having the same qualities and shortcomings that exist in actual people. They, too, must make judgments that have no easy answers or perfect outcomes. This level of characterization, as well as the sense of being in a believable, imperfect world, distinguishes this series from the rest of the action hero crowd. Adrian Chase, the new Star City district attorney, is played by Josh Segarra, who is subsequently revealed to be the arch-villain Prometheus.
Orange Is the New Black (2020), Josh Segarra plays C.O. Danilo Stefanovic
Orange Is the New Black has a fantastic cast, eccentric characters, and intriguing stories. Piper Chapman is the protagonist of the series (Taylor Schilling). Piper is engaged to Larry Bloom (Jason Biggs), but she is arrested and sentenced to 15 months in a minimum-security jail. It comes as a surprise to almost everyone that she illegally transferred drug money ten years prior. Needless to say, the adjustment period in prison is difficult for Piper. The series introduces the many inmates and staff members of the institution through Piper.  Through her, the audience learns about their backgrounds as well as their current motivations. Meanwhile, Piper's fiancé, a budding writer, struggles to cope with the separation. There are flashbacks along the road that begin to explain how the women got there. Danilo Stefanovic, a prison officer at Litchfield Penitentiary Maximum Security, is played by Josh Segarra.
Josh Segarra – Memorable Quotes
AJ and the Queen – Hector Ramirez
It is such a cool role! I love to take a role like that. When you meet Hector, you think he is going to be one thing and he ends up being another. I love flipping it on its head and getting to see both sides of him. You come to wonder if it's something that he does a lot or if it's new to him, and I love fleshing that character out, or any character that I play, and seeing what kind of intricacies you can find in these people, and what makes them tick, and what makes them go off. You're going to see him and Lady Danger, who's played by the wonderful Tia Carrere. I've been hearing them described by Ru himself as Boris and Natasha. We end up chasing them with some hijinks on the way. (Source: getoutmag.com) – Josh Segarra
Prometheus
When I got to do Prometheus on "Arrow." There was something about that. There was freedom in knowing Prometheus was going to be dead by the end of the season. We knew at the finale he was going to die. We didn't know how; they told me that they were going to figure it out. The best time in my career was when they were saying that they were going to create this guy… I was so nervous because I thought they were going to be disappointed. But I was very honored by the fans the way they received Prometheus, aka AJ Chase, and I'd love to go back and play with those guys. I appreciate that they let me bring a comic book character to life and have our own twist on it. It was very special. (Source: ibid) – Josh Segarra
Personal: Josh Segarra Net Worth & Zodiac
Josh Segarra has an estimated net worth of $1-2 million as of 2021. (Source: idolnetworth.com)
Segarra was born on June 3rd.  That puts him under the zodiac sign, Gemini, the Twins.
Geminis born on June 3 tend to be exceptionally clever, yet their brilliance is more analytical than artistic. They have a lot of nervous energy, which might oftentimes be interpreted as a bad temper. Although they can be argumentative at times, they are far more inclined to keep their emotions to themselves. Individuals born on June 3 do not have the typical Gemini need to make friends, yet others are drawn to them. These people have a bit of ego, but it doesn't take away from their likeability. They might be difficult romantic partners since they require regular reinforcement that their spouses are devoted to them.
According to your horoscope, you're the life of the party.  You are full of laughter, charming but chatty. On the positive side, you are a person who is creative, social, and optimistic. Moreover, you are resourceful, fast to learn new things, and always enjoy taking on new tasks.
Personal Bits and Pieces
Is Josh Segarra married?
On October 17, 2014, Segarra married his longtime partner Brace Rice. The couple had their first child, a son, on September 30, 2016, and their second child, also a son, was born on January 8, 2020. Both he and his wife are avid sports fans. (Source: en.wikipedia.org)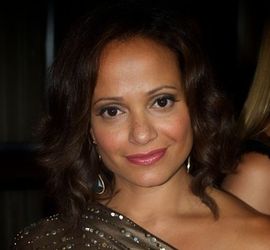 Judy Reyes was born on the 5th of November, 1967. She is an actress, model, and producer from the United States. Judy is best known for her roles as Carla Espinosa on medical comedy-drama Scrubs (2001–2009) and Zoila Diaz on Lifetime's comedy-drama Devious Maids (2013–2016). In 2017, she made her TNT debut as Annalise "Quiet Ann" Zayas on the crime comedy-drama Claws.
Reyes began her acting career while attending Hunter College in Manhattan.  Her television career developed in the early 1990s as a guest star on a variety of TV dramas.  Appearances include Law & Order, NYPD Blue, and The Sopranos. She also had a recurring role as Tina Rivera in the drama Oz (1999-2002).  However, she is probably best known for her role as nurse Carla Espinosa on the NBC comedy Scrubs, which she played from 2001 until 2009.
The actress has been in a number of made-for-television films, mostly for the Lifetime network. These include Little Girl Lost: The Delimar Vera Story (2008) and The Pregnancy Project (2012).  (Source: enwikipedia.org)