Who is Tyrel Jackson Williams?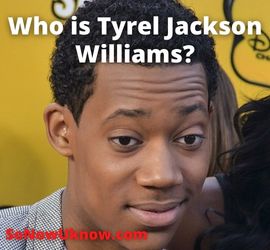 Tyrel Jackson Williams was born on March 16, 1997. He is an actor from the United States. In the Disney XD series Lab Rats (2012-16), he played Leo Dooley. Williams also appeared in the Disney XD television film Pants on Fire (2014). Next, he co-starred in the comedic series Brockmire from 2017 until 2020. Williams has appeared in feature films The Naked Brothers Band: The Movie (2005) and Failure to Launch (2006). He is a familiar face in TV commercials staring in national ads for Target, Verizon, McDonald's, Chex Mix, and General Mills. Beginning in 2005, Williams appeared in two episodes of the television series Everybody Hates Chris as a younger version of Chris.  Interestingly, the older version of the same character was played by his elder brother Tyler James Williams.
Williams was cast in the Disney XD series Lab Rats in 2011, which premiered in 2012.  He plays the lead role of Leo Dooley, who discovers the existence of a sibling trio of bionic teenage superheroes. Disney also cast the young actor to star in the 2014 Disney XD television film Pants on Fire. Williams voiced the character, Tyrone, in the Nickelodeon animated television series The Backyardigans. In the IFC comedy series Brockmire (2017), Williams plays Charles.  The character is an online whiz hired to be the assistant to a minor league baseball team and its sports broadcaster.
Awards & Nominations
Nominated – Kids' Choice Awards (2016),  Favorite Male TV Star – Kids Show, Leo on Lab Rats
Nominated – Kids' Choice Awards (2017),  Favorite Male TV Star, Leo on Lab Rats 
(Source: en.wikipedia.org)
Tyrel Jackson Williams – Career Highlights
The Naked Brothers Band (2005)  Tyrel Jackson Williams plays Guitar Boy
The film features kids who appear to be 10 or younger.  However, their characters are treated like adults in the corporate world. Combine this with the parody of pop-music history and the commercial music industry in general and the result is a lot funnier show than expected.  Especially from a kid's show. It's not supposed to be a serious documentary. It's like a kid-friendly version of Spinal Tap, and the film's mockumentary format is appealing. If you take it with a grain of salt, you should be pleasantly surprised. Actually, anyone with an open mind can enjoy it, and the songs are unexpectedly catchy.
Failure to Launch (2006)  Tyrel Jackson Williams plays Jeffrey
Tripp (Matthew McConaughey), is a thirty-five years old bachelor man that still lives with his parents, His parents, Al and Sue hire the manipulative interventionist Paula (Sarah Jessica Parker) to play Tripp's girlfriend and convince Tripp to move out of his parent's house. However, Paula and Tripp actually fall for each other, but best friends on both sides intervene and spoil the plan and the relationship. Failure to Launch is a silly and predictable romance.  However, it still manages to entertain only because of the excellent cast. There is great chemistry among the actors and actresses of this movie.  This is the glue that holds the interest of the viewer, in spite of an average and forgettable screenplay.
Lab Rats (2012-16)  Tyrel Jackson Williams plays Leo Dooley
The notion of a research laboratory is given an outrageous and surreal twist by Chris Addison. He is ably assisted by a superb cast, each of whom contributes their own peculiarities to the mix. There were several times when I laughed out loud.  Lab Rats has something unique about it that elevates it beyond the majority of sitcom muck.
Pants on Fire (2014)  Tyrel Jackson Williams plays Mikey
This amusing film stars Bradley Steven Perry and Tyrel Jackson Williams. It is about a boy whose falsehoods become true. Let me begin by expressing that I appreciate this film because the main character, Jack, is unlikeable. As a result, when awful things happen to him, you can't help but chuckle. You may argue that he deserved the majority of what was coming to him. A film that can both entertain and teach us an important life lesson is worth the time invested. Too many adults are rating this film….and that it is too late for them to learn the lesson of lying.
Tyrel Jackson Williams – Memorable Quotes
Acting
"We saw our older brother doing it when he was like four, so we were like we want to do the same thing before we even fully understood what it was.  Around when I was 16 or 17, I actually consciously made the decision that this is what I wanted to do with my life.  I was on my way out of high school and was working on a show that was about to end. Pretty much, I had been working through my high school years and was trying to figure out what I was going to go to college for. There was a bunch of ideas and lots of things I was interested in.  So, I just kept coming back to some form of entertainment."
"I enjoy making people feel something. Making people smile, making people laugh, making them not necessarily cry. Also, I enjoy being able to do something that evokes something in people, and I've sort of been gifted at being able to do that through acting.  You see, I'm always in competition with myself when I act because I always want to be better than I was the day before. So it's something that every single day I strive to get better. I strive to be able to do more and more and expand my toolkit every day. It's that healthy, sort of addictive quality to anything positive." – Tyrel Jackson Williams
Brockmire
"I remember when the first episode of the first season premiered. Me and my mom were in a hotel. We gathered around my computer [and] just watched the whole thing live. Every year, it's something special. So this year, it's the same excitement, but there's a little bit of sadness.  Our lives have gotten very, very different but like I've grown and learned a lot from playing Charles." – Tyrel Jackson Williams
What's next?
"I've been doing quite a bit of writing, screenwriting, and writing TV. Doing a lot of music lately.  All things that I feel like I would have done if I was in college right now but without the massive student loans.  The advice I would give to my younger self would be to stress less and try [to] focus on taking care of yourself more.  Setting good habits and knowing when you've done enough.  Keep an eye on yourself and know when you're hitting your limit.  In order to be able to move forward and live a sustainable life, you have to be able to at some point set work down over to the side. Focus on yourself. Do things that help to keep you healthy, happy, and focused." – Tyrel Jackson Williams
Personal: Net Worth and Zodiac
Tyrel Jackson Williams has an estimated net worth of approximately $5 million as of 2021. (Source: celebnetworths.com)
Tyrel was born on March 16th.  That puts him under the zodiac sign Pisces – the fish.
A Pisces representative born on March 16th must discover their genuine gift. This allows them to express it and live their life to the fullest. An individual born on March 16th succeeds in things creative and artistic.  They shine in situations requiring ease and confidence.  Ultimately, they develop into the people they were born to be. They are extremely creative and powerful in their love for others.  And, will vigorously defend those they care about and be inspired by those who love them. They are pleasant, smiling, and usually delightful to be around This is because they are warm, passionate, and in constant touch with their sensual side.
However, they can sink into negative patterns learned in their primal home.  They can become entangled with people of authority.  Therefore, watch for those who will not help you in your progress.  Never be fearful of breaking out of your shell and being independent and free. Pisces have impetuous personalities.  Yet, they make good companions since they are amorous, affectionate, and caring. As a result, they are overly naive and somewhat shy.  This can be a negative aspect of their personality. They're curious about how things function or what might happen if they tweak things a bit. In a nutshell, they prefer to try new things. Others may be content to live within their comfort zones, but this Pisces is not.
Tyrel Jackson Williams – Bits and Pieces
What is Tyrel Jackson Williams doing now?
Tyrel Jackson Williams is making a quick transition from Lab Rats. From 2012 to 2016, he played Leo Dooley on the Disney XD series.  He is now playing Charles, the laid-back social media savant on IFC's Brockmire.
What disease does Tyrel Jackson Williams have?