Who is Karen Fukuhara?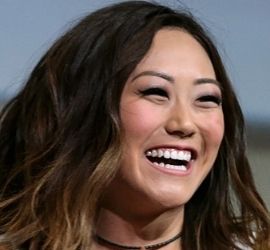 Karen Fukuhara is an American actress and voice actress of Japanese descent.  She is best known for her roles as Katana in the 2016 superhero film Suicide Squad (2016), and as Kimiko Miyashiro in the Amazon Prime original series The Boys (2019–present). Fukuhara is also known for voicing the character Glimmer from the Netflix series She-Ra and the Princesses of Power and Kipo in Kipo and the Age of Wonderbeasts.
Fukuhara was born to Japanese parents on February 10, 1992, in Los Angeles, California. She is bi-lingual speaking both Japanese and English fluently. She has a younger brother. Fukuhara began practicing karate in middle school and earned her brown stripe belt before leaving for college.  A brown-stripe belt is higher than a brown belt and one step away from a black belt.
Fukuhara attended the University of California, Los Angeles (UCLA).  In addition to her studies, she worked as a reporter for a sports show on NHK World News, Japan. NHK is the international arm of the Japanese public broadcaster with services aimed at overseas markets.  Fukuhara graduated from UCLA in 2014 with a Bachelor of Arts in Sociology and a minor in Theater.
Karen Fukuhara – Career Highlights
Suicide Squad (2016)  Karen Fukuhara plays Tatsu Yamashiro (aka Katana)
This film will never win an Academy Award and has received a lot of criticism.  However, there are redeeming qualities that make the film tolerable, and even enjoyable.  For one, the soundtrack is really good.  The songs are well selected and they perfectly complement the tone of the movie.  Another nice touch is its sense of humor.  The movie features a team of villains, yet, they aren't dark and serious, rather sharp and clever.  One of the main things the film has going for it was its cast.  Face it, there are a lot of talented actors and actresses like Margot Robbie, Will Smith, and Viola Davis. Even when the script was lacking in some areas, the actors are able to make something out of what they were given.  In general, strong performances were given to a mediocre script.
The Boys (2019-present)  Karen Fukuhara plays Kimiko Miyashiro (aka The Female)
The series is based on a comic of the same name. The Boys is a satire on what happens to superheroes who are as popular as celebrities.  It explores the temptation and outcomes when they abuse their superpowers rather than use them for good. Often the outcome is much like a Shakespeare drama with the theme that absolute power corrupts absolutely. But no worries, there is a multi-billion dollar conglomerate to manages these superheroes and cover up all of their dirty misdeeds. The Boys offer a pretty realistic view of what it would actually be like if superheroes were flying around today.  It is often difficult to tell the good guys from the bad guys.  Which is actually quite refreshing instead of the same old nauseatingly good guy stereotype.
Karen Fukuhara – Memorable Quotes
I was born and raised in Los Angeles; I'm still there! But both my parents are from Japan, so my first language was Japanese and I grew up with Japanese values, TV, food—everything. Outside of the house, I was a normal kid…I started karate in middle school when my parents wanted me to babysit my younger brother. He was a little troublemaker, so they wanted me to make sure the class was going okay. I ended up being way more into it than my brother. I did competitions; I've flown to Japan to compete in the worldwide championships as well. I ended at a brown striped belt but then went off to college. – Karen Fukuhara
Well, I love food and I love carbs: Pasta, rice—that's my thing. But for the movie, a lot of your physicality comes from not only training but your diet, too. I ate a lot of quinoa, greens, chicken breast. There wasn't a nutritionist, but we did have meals that were specifically made for us. – Karen Fukuhara
It was really fun! It's definitely difficult when you can't say what you want to say. But, she says a lot without uttering a word. Portraying that has been a challenge but I really don't know how to explain it.  It just comes to me and I kind of become that… I never realized that there are different forms of communication.  And, it's not just me talking at someone and really demanding something from someone. You can get what you want without uttering a word. If you take the right action, that is saying something. It's been so fun playing Kimiko! – Karen Fukuhara
Net Worth and Zodiac 
Karen Fukuhara has an estimated net worth of around $800 thousand as of 2021.
Karen was born on February 10th.  That puts her under the zodiac sign Aquarius.
A FEBRUARY 10th birthday predicts that you are ambitious and looking to achieve success. Which is great b because you are talented and unconventional in your approach to almost everything. Clearly, you know what you want out of life.  So, all you have to do is stay focused and the world is your oyster.  The success you seek is not selfishly motivated.  You want to make money so that you can give it away. Your greatest joy comes from helping others. This is a most unusual trait in today's world.  But, be careful!  You can oftentimes be too generous!  There are always those who might take advantage of you and your generosity. Your flaw is that you stay so busy, love can pass you by.  With so much to give, it is a shame to let that happen.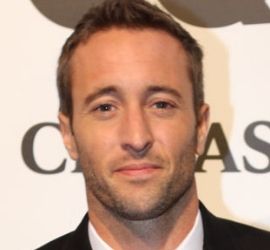 Alex O'Loughlin is an Australian director, writer, producer, and actor achieving great notoriety and success as an actor.  He has appeared in a number of popular films and television shows.  The actor is probably best known for starring on the CBS series Hawaii Five-0 (2010-20). Alex appeared in all 240 of the series' episodes over 10 seasons.
Alex was born on August 24, 1976, in Canberra, Australia. O'Loughlin comes from an Irish and Scottish background.  His mother is a nurse and his father a physics and astronomy teacher in Sydney.  His parents divorced when he was 2-years-old. From the age of 10 onward, he commuted between the two cities to spend time with both parents.
O'Loughlin dealt with a significant amount of adversity as a child.  His parents divorced when he was just 2 years old and he suffered from an obsessive-compulsive disorder at an early age. Despite obstacles, Alex attended the National Institute of Dramatic Art (NIDA) in Sydney.  He graduated in 2002 with a Bachelor of Dramatic Arts degree.
O'Loughlin began working in short films and theatre as a teen. In Sydney theater, he appeared in plays by Anton Chekhov and Lev Tolstoy.  After graduating from NIDA, Alex worked in commercials spots and jumped to Australian television and film productions. His credits include roles in BlackJack: Sweet Science, White Collar Blue, and Love Bytes.