Who is Marisha Ray?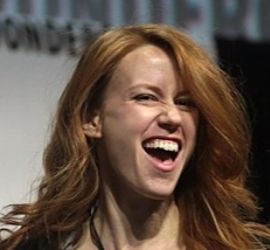 Marisha Ray is an American voice actress, producer, and show host. She is probably best known for her recurring role in the web series Critical Role.
The voice actress has also provided her voice for numerous video games.  These include  Metal Gear Solid V: The Phantom Pain, The Legend of Heroes: Trails of Cold Steel, Star Wars: Battlefront, Persona 4: Arena Ultimax, and Lego Star Wars: The Force Awakens.
Marisha Ray was born on May 10, 1989, in Louisville, Kentucky.  She began acting when she was 12 at the Actors Theater of Louisville. Ray graduated from Point Park University in Pittsburgh, Pennsylvania. She studied acting formally at The American Academy of Dramatic Arts.
Ray got her first role in the short film, Angie. In 2008, she moved to Los Angeles. Marisha wrote on a Reddit post: "I started dabbling with producing more in college, and when I first moved to LA."
Marisha Ray Career Highlights
Ray produced a Batgirl fan series in 2012 called Batgirl: Spoiled.  Of course, she played the title character.  In 2015, she began co-starring in the web series Critical Role. She joins fellow voice actors in playing Dungeons & Dragons Fifth Edition. Her character for the first campaign was Keyleth, a half-elf druid. As a part of getting into her character, she compiled a playlist representing Keyleth's journey. Her character for the second campaign is Beauregard, a human monk. She was involved in many of Geek & Sundry's other productions.  She co-hosting Key Questions, acted in Sagas of Sundry, and produced Signal Boost!  On July 28, 2017. she announced her appointment as creative director for Geek & Sundry.  Almost a year later, she stepped down from the position when she became the creative director for Critical Role Productions. (Source: en.wikipedia.org)
Marisha Ray Fun Facts
Ray announced her engagement to fellow voice actor Matthew Mercer on October 24, 2016.  Ray and Mercer both co-star on the D&D weekly web series Critical Role. They married a year later on October 21, 2017.
She starred in and wrote some episodes of a horror web series called 8.13.  The series was awarded Best Writing in a Horror Series by the LA Webfest Awards.
Marisha Ray Defining Roles
Critical Role (2015 – present)   Sam Riegel voices Scanlan Shorthalt
Dungeons and Dragons is now a spectator sport.  For the uninitiated, D&D is a role-playing game.  The players create characters and participate in a story narrated by a Master of Ceremonies named the Dungeon Master. Also, the Dungeon Master also serves as a sort of referee.  For example, he (or she) interprets the rules to determine whether or not a player is successful in whatever he or she is trying to accomplish.  The task can be anything from firing a crossbow to singing a song. The effect is a combination of improv theater, storytelling, and a strategy board game.  Critical Role is a live weekly show.  Professional voice actors improvise and role-play their way through an epic Dungeons & Dragons campaign.  Generally, the weekly broadcast is basically just a live-streamed game of D&D.  However, the players are all accomplished voice actors and offer very entertaining improvisation. (Source: sonowuknow.com)
Marisha Ray Memorable Quotes
Our long-running campaign started about three years ago as friends. The legend of how that game began is out there in the world, and with a well-balanced adventuring party, I'm sure you will have no problem finding it. At the end of the day, we are just a group of friends who really enjoy unabashedly playing make-believe as a hobby (and a career, let's be real). One fateful day, Geek Matron and our own personal Raven Queen, Felicia Day heard of our game and called us into Geek & Sundry for a meeting. And,… well, you can see how it turned out. – Marisha Ray
Personally, gaming has always been a huge part of my life. I've always believed that gaming is an essential part of humanity. Recent trends have elevated the title of "gamer" which leads people to believe that you have to hit this non-existent set of standards in order to achieve the credit. In reality, everyone is a gamer in some way. Whether your jam is sports, video games, Candy Crush, or even Sudoku in the morning paper, everyone enjoys a little recreational gaming every once in a while. And that's a fantastic reality! We always want to welcome more people to our awesome club. ONE OF US! – Marisha Ray
In terms of video games and other geek media, I don't think it's any secret that there are far more male characters compared to female. Of course, this is going to affect how much I will work versus my male peers. Are you starting to see the trickle-down effect that I'm talking about? Ultimately, I don't feel like I have it any more difficult than any other woman in a male-dominated field. These are all smaller repercussions of a bigger, more deep-seated societal issue that's going to require effort from everyone if we expect to start seeing any change. The biggest mistake we can make is to label this a "women's issue" when it's a "people issue". – Marisha Ray
Net Worth and Zodiac Sign
Marisha has an estimated net worth of $500k-$2million dollars.
Ray was born on May 10th.  That puts her under the zodiac sign of Taurus the Bull.
THOSE BORN ON MAY 10, tend to be Bulls that want to make a mark on the world. The final resume is essential to them and their self-image. They always want to know how the world perceives them. The May 10th astrology analysis predicts that those born on this day require a quiet time to reflect and to make decisions. It is typically unusual for this Taurean to be alone. But it is hard to hear the inner workings of progress in a crowded room or a noisy environment.  You are likely to be a hero in the eyes of family members. You feel an enormous duty to protect them. As a parent, this quality holds equally true. (Source: sunsigns.org)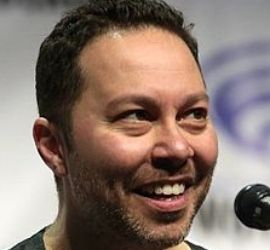 Sam Riegel is an American voice actor, director, and writer. He is a regular cast member of the web series Critical Role.  It is a screen share where he and other fellow voice actors play Dungeons & Dragons.
Samuel Brent Oscar Riegel was born on October 9, 1976, in Washington, DC. Sam grew up in Washington, D.C., and Northern Virginia.  He attended college at the University of Virginia. Riegel has two younger siblings.  His sister is the actress Eden Riegel.  She plays live roles but has entered the world of voice acting as well. His half-sister is the filmmaker Tatiana S. Riegel.
Sam's father is Kurt Riegel.  Kurt is a radio astronomer, environmental executive, and sailor. His mother, Lenore, is married to author Jerome Charyn. Riegel lives in Los Angeles.  He is married to Vietnamese-American cinematographer Quyen Tran. Together, they have a daughter and son.
In addition to his prolific list of voice credits, Sam also serves as voice director for Disney's DuckTales, Sofia The First, Pickle & Peanut, Elena of Avalor, and Fancy Nancy, as well as Danger & Eggs for Amazon and Unikitty! for Cartoon Network.