Who is India Eisley?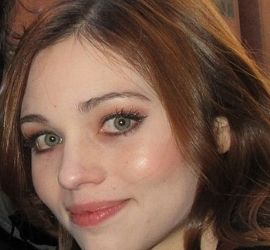 India Eisley is an American actress who was born in Los Angeles, California on October 29, 1993. She is best known for playing the role of Ashley Juergens in the TV series The Secret Life of the American Teenager (2008-2013). Her mother is actress Olivia Hussey and her father is musician David Glen Eisley.  She is the niece of actor Jonathon Erickson Eisley and the half-sister of actor Alexander Martin.
She studied ballet, tap, and modern dance. India and her mother appeared together in the movie Headspace (2005). She starred in the ABC Family drama series The Secret Life of the American Teenager from (2008-2013). Eisley starred as Eve in the movie Underworld: Awakening (2012). She starred as Sawa in the movie Kite (2014) with Samuel L. Jackson. India has since gone on to appear in the film Amerigeddon (2016), the movie Clinical (2017), and more.
Career Highlights
Eisley played an uncredited role as the English Girl in the film Mother Teresa of Calcutta (2003).  India and her mother appeared together in the movie Headspace (2005). After small roles in various independent films, Eisley scored a major role in The Secret Life of the American Teenager (2008-2013). She plays Ashley Juergens, the younger sister of teen mother Amy Juergens. Eisley starred as Sawa in the action film Kite (2014), opposite Samuel L. Jackson. Next, she filmed Social Suicide (2015), a modern retelling of Romeo and Juliet.  India appears in the film with her real-life mother Olivia Hussey, who plays Mrs. Coulson.  Eisley plays her daughter, Julia.
Eisley starred as Briar Rose in the horror-thriller film The Curse of Sleeping Beauty (2015). The same year, she was cast in the Lifetime television film adaptation of the V. C. Andrews' book My Sweet Audrina (2016). Next, she starred in the Netflix original film Clinical (2017). Eisley played the lead role of Maria opposite Jason Isaacs in the psychological thriller film Look Away (2018).  Eisley stars alongside Chris Pine as Fauna Hodel in the six-part limited series I Am the Night (2019).  The mini-series is based on Hodel's memoir One Day She'll Darken: The Mysterious Beginnings of Fauna Hodel.
India Eisley Defining Roles
Headspace (2005)  India Eisley plays Martha
A man, 25-year-old Alex Borden, discovers newfound mental capabilities.  He must use his abilities to stop a rash of brutal murders.  His psychic powers extend to seeing events that have occurred in the past.  The film won the Best Cinematography Award at the New York Horror Film Festival.  The film provides copious doses of blood and gore.  But, that's to be expected from an award-winning horror film, right?
The Secret Life of the American Teenager (2008-13) India Eisley plays Ashley
A teen drama centered around the life of an adolescent dealing with an unexpected pregnancy.  The series looks at growing up from an upper-middle-class perspective and setting.  Some of the topics addressed can be controversial but are mostly are tastefully handled with tact. The New York Post calls the show "beautifully written".  However, many knock the show for presenting stereotypical, shallow characters and an unrealistic portrayal of teenagers.  Also, Amy Juergens is the main focus of the show.  But, she's selfish, spoiled, and irritable, a tough character to like and relate to.
AmeriGeddon (2016) India Eisley plays Penny
Citizens battle martial law after an attack destroys the energy grid.  The attack is orchestrated by a globalist terrorist organization aligned with the United Nations.  Their goal is to see that martial law is imposed to bring the superpower to its knees.  Once again, freedom is under attack, and patriots must arise and unite to save life and liberty from haters.  Critics contend it falls short of the mark, but it is still good to see people refusing to blindly accept the mainstream dialogue.  Some valid points are raised concerning globalized corporate government, an oppressive surveillance state, and questions about GMO food.
I Am the Night (2019)  India Eisley plays Fauna Hodel
The television series is inspired by the real-life saga of Fauna Hodel (India Eisley).  Fauna is a white girl who grew up in Nevada thinking she was mixed-race.  A wealthy white family gave her to a black casino attendant shortly after her birth. She later discovered the deeply unsettling reasons why.  The series watches her unraveling the complicated and closely guarded secrets of her heritage.  I am the Night is based in fact.  One day, Fauna makes a discovery that causes her to question everything about her past.  Her questions lead her to a disgraced reporter played by Chris Pine.
India Eisley Memorable Quotes
Well, I kind of grew up on sets because my mother [Olivia Hussey] is an actress, so really, I just remember being on a set. A set is my favorite place to be. I was always pretty shy and quiet and meek until I got on a set, and then I just suddenly came alive. I think just growing up watching great films and great performances because my parents really instilled that in me, and I kind of gravitated towards it on my own. But just the whole environment of being on a film set. It was more interesting to me than hanging out with other kids and doing kid things. I wasn't too interested in being a child. I think growing up on sets and watching great performances, was always an interest for me, and I viewed it as fun.  – India Eisley
I probably would have kept pursuing ballet, because, for a long time, I intended on going professional with ballet, and it was a big part of my life. It still is. I'm not nearly as active as I was at some point when I was younger because work takes precedence, but before I started acting professionally, that was my love in life, really. That or interior design, but I think I'd get bored. It's much easier having that as a hobby, I think. I think I'd be complete crap at a 9-5 job. I'd get fired very quickly. – India Eisley
Acting Role Choices
I'm a working actress and I need to, you know, make a living. [laughs] But within that, there is the part of me that is very creative. I have to care about what I am doing and I have to find some kind of hook that something means something to me and I have stakes in it. I've always encountered that because the characters that I'm always drawn to playing are the ones that are being pulled in different directions. I know a lot of actors probably say the same thing, but as an actress what makes me tick is having something that I am playing against. So, if it's an external thing that she's playing against, great, but if it's internal, that's what really draws me. Having those opposing extremes makes my job far more interesting and it makes my job easier with which to play. – India Eisley
Net Worth and Zodiac Sign
India Eisley net worth:  India Eisley has a net worth of $2 million dollars. (Source: celebritynetworth.com)
India was born on October 29th.  That puts her under the zodiac sign of Scorpio.
If OCTOBER 29 is your birthday, you are a Scorpio, and you are driven by success. In short, you have a strong desire to be extraordinary. Ambition makes you ready and able to meet any challenge that comes your way. Some people born under this zodiac sign may walk away from conflict.  However, that is not you. In fact, you thrive on confrontation and presenting your particular point of view. It makes you feel better to have people listen and take the time to understand you.  It's nice to know you keep a level head and do not overreact in situations that can become heated. However, the fact that you keep your cool does not mean you don't have a breaking point. It is not wise to push a Scorpion to the limit.  That tail carries a nasty sting!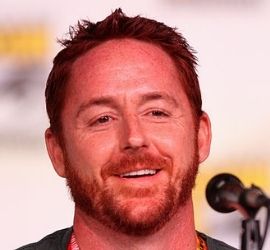 Scott Grimes is an American actor, voice actor, singer, and songwriter. He was born in Lowell, Massachusetts on July 9, 1971. As an actor, he starred as Jack Randall in the television series Nothing Is Easy (1986-1987).  He starred as Garth in the TV series Goode Behavior (1996-1997)  Also, Grimes starred as Will McCorkle in the series Party of Five (1994-2000). In 2001 he starred as Sergeant 1st Class Donald Malarkey in the highly-acclaimed TV mini-series Band of Brothers.
Early Acting Career
Grimes started acting at an early age. At the age of 13, he co-starred with Mickey Rooney in a made-for-TV holiday movie titled It Came Upon the Midnight Clear (1984).  He appeared in the Little Boy Lost episode of the Twilight Zone (1985).
Grimes starred in 112 episodes as Dr. Archie Morris in the television series ER (2003-2009). He voices the role of Steve Smith in the TV series American Dad! (2005-present) and also voiced the role of Kevin Swanson in the series Family Guy (2011-2015). Grimes also starred in big-screen, blockbuster movies including The Night They Saved Christmas, Crimson Tide, Robin Hood, and Winter's Tale.